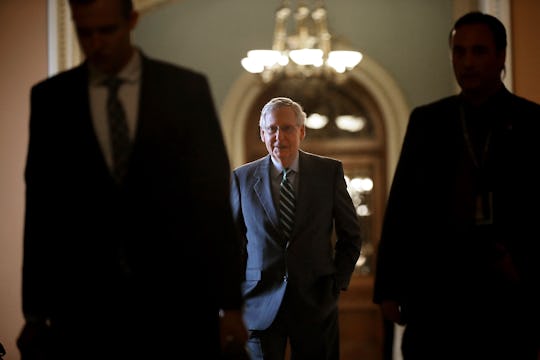 Chip Somodevilla/Getty Images News/Getty Images
Here's How Many Will Be Uninsured Under The BCRA
Every step of the GOP's plan to repeal and replace Obamacare thus far has threatened health care coverage for millions of Americans. And the latest version, the Better Care Reconciliation Act, is reportedly expected to do the same. On Monday, the nonpartisan Congressional Budget Office released its cost estimates and calculations regarding just how many people will become uninsured under the BCRA — and it doesn't look good.
The CBO estimates that the Senate's health care bill would leave 22 million more Americans uninsured by 2026. That brings the total to 49 million people, instead of 28 million people who do not have insurance under current law. This figure is only slightly lower than what the CBO estimated last month for the House version, which would lead to 23 million more Americans without health insurance within the same time frame.
By next year, 15 million more people would be uninsured under this legislation, "primarily because the penalty for not having insurance would be eliminated," according to the CBO.
Under Obamacare, there is a penalty for not having health insurance — usually $695 per person — and the original Senate bill didn't require this mandate, which critics fear would lead to healthy people don't paying for coverage until they get sick or injured.
But Republicans recently updated their plan to include a penalty on those who don't maintain continuous insurance coverage. "People who let their coverage lapse for at least 63 days in one year would be locked out of the insurance market for six months the following year," as NPR reported. This provision would start in 2019.
The updated BCRA also plans to "repeal Obamacare taxes, restructure subsidies to insurance customers that are based on their incomes and phase out Medicaid's expansion program," as CNBC reported.
By doing so, the CBO predicts that "few low-income people would purchase any plan" ultimately because of higher premiums that come with less generous plans, even if they are eligible for premium tax credits.
The CBO estimates that enrollment in Medicaid — the safety net program for low-income Americans — would fall by about 16 percent. Last year, Medicaid covered nearly 9 million children and one out of every five American women of reproductive age.
By 2026, the Senate plan would reportedly reduce the cumulative federal deficit by $321 billion by implementing these changes.
Senate Majority Leader Mitch McConnell and other Republican leaders reportedly want vote on the bill later this week, but it is not clear yet if moderate Republicans are in favor of it now that the CBO score has been released.
If the BCRA goes to a vote and the Senate passes the bill, it's still just the start of a lengthy process. As Reuters reported, "it will either have to be approved by the House, the two chambers would have to reconcile their differences in a conference committee, or the House could pass a new version and bounce it back to the Senate."
Whatever happens in the coming days, it's clear that the latest CBO score has given many even more cause for concern when it comes to the nation's health care.