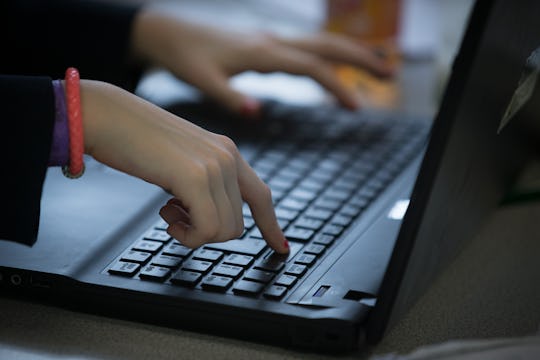 Matt Cardy/Getty Images News/Getty Images
Millions Would Be Affected By Laptop Bans On Flights
Using a laptop to watch Netflix or do some work on a long flight may be a thing of the past if you're traveling into or out of the United States in the future. According to CNN Money, at the moment, any electronic devices that are bigger than a cellphone are banned from the cabin on flights headed to the United States from 10 airports in Africa and the Middle East. But John Kelly, Secretary of Homeland Security, said on Sunday that the ban may be expanded to all international flights entering or leaving the country. How many people would be affected by laptop bans, if the restriction was expanded in that way?
Reuters reported that Kelly said the United States plans to to "raise the bar" on airline security, in an appearance on Fox News Sunday. That would include tightening the screening of carry-on items, which would include large electronic devices such as laptop computers.
According to the Boston Herald, Kelly explained the reasoning for enhanced security procedures:
Well, there's a real threat — numerous threats — against aviation...That's really the thing that they are obsessed with — the terrorists — the idea of knocking down an airplane in flight, particularly if it's a U.S. carrier, particularly if it's full of mostly U.S. folks. It's real.
So just how many people would be affected by a laptop ban of the sort of magnitude Kelly is suggesting? According to CNN Money, a lot.
In that outlet's estimation, around 4,300 international flights take off and land in the United States every day, and those flights carry something like 560,000 passengers, according to the International Air Transport Association, an industry association. That equals more than 200 million passengers a year.
So hundreds of millions of people could be affected by an expanded laptop ban. How many of those people simply wouldn't take the trip, or would choose another destination with less stringent regulations?
CNN Money reported that such a ban could threaten to damage both tourism to the United States, as well as hurt the world aviation industry.
Foreign visitors, who would be impacted by the ban, spent $246 billion in the United States last year, supporting 8.6 million people employed in the American tourism industry. According to that outlet, those jobs could be at risk if international travelers decided to go somewhere else and not deal with the inconvenience of laptop bans.
Imagine being a parent considering traveling overseas to the United States with a child, and that child can't use any form of large electronic device. They can't play games on a laptop, or watch Bubble Guppies, or whatever else might entertain them on that device for several hours. Is it unrealistic to believe that parent might change their plans?
Plus, as the Boston Herald reported, an expansion of the ban "could create chaos at airports and potentially cause more harm than good, introducing a fire hazard in the cargo hold with so many devices powered by lithium batteries."
Whether something like that would be an issue remains to be seen. Reuters reported that the TSA began testing new procedures at a limited number of airports already, and the results in these test markets will likely be watched very closely. Those new procedures involve things like requiring people to remove additional items from their carry-on bags for separate screenings, like a laptop.
When Kelly was asked if the federal government would expand such measures across the nation, he said: "We might, and likely will," according to Reuters.
If Kelly is correct, millions more people might need to adjust their travel plans accordingly. And the glow of several rows of laptop screens on a long flight to or from America may become a forgotten association.