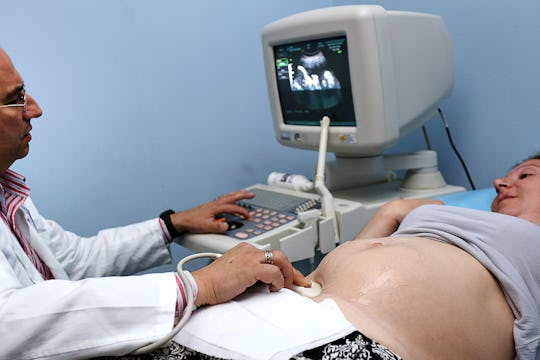 GENT SHKULLAKU/AFP/Getty Images
Here's How Much A 20-Week Abortion Costs In The US (& How Often It *Actually* Occurs)
On the heels of the House of Representatives passing a 20-week abortion ban, the GOP has introduced legislation that would outlaw abortions starting at six weeks — before many women even know they're pregnant. Republican lawmakers, it seems, are attempting to distract the public with an extremely restrictive ban in order to make the 20-week ban seem more reasonable. Except, late-term abortions are already rare, and not to mention expensive. But how much does a 20-week abortion cost in the U.S., anyway? The answer might surprise you.
But first, let's take a look at this proposed six-week ban. In January, the GOP introduced a bill banning abortion "in cases where a fetal heartbeat is detectable." Yesterday, news broke that a judiciary committee will be holding a hearing to discuss it on Nov. 1. The bill, titled H.R. 490, is sponsored by Rep. Steve King of Iowa. If signed into law, it would make it a federal crime to knowingly perform abortions "without determining whether the fetus has a detectable heartbeat," "without informing the mother of the results," or "after determining that a fetus has a detectable heartbeat." Physicians who violate theses stipulations could face a fine, up to five years in prison, or both.
In a January news release, Rep. King defended the controversial bill, saying:
Since Roe v. Wade was unconstitutionally decided in 1973, nearly 60 million innocent babies' lives have been ended by the abortion industry, all with a rubber stamp by the federal government, If a heartbeat is detected, the baby is protected.
James Owens, NARAL Pro-Choice America States Communications Director, took to Twitter yesterday to point out that six weeks is before many women even know they're pregnant.
Which essentially makes all abortion illegal, as this Twitter user pointed out.
Writer and abortion clinic escort Laura Rankin argued on Twitter that the six-week ban isn't meant to be passed into law; rather, the GOP is hoping that its extremity will distract people from the 20-week ban and potentially help it move forward.
The thing is, late-term abortions — typically defined as those performed at 20 weeks of gestation or later — are not common. According to the Guttmacher Institute, 89 percent of abortions occur in the first 12 weeks of pregnancy; by contrast, just 3.8 percent of abortions occur between weeks 16 and 20; and 1.3 percent of abortions occur after the 21st week of pregnancy.
And post-20-week abortions definitely not cheap. According to an article from Glamour, starting in the second trimester, the standard for abortion care is a surgical abortion using a procedure called dilation and evacuation, or D&E. It can cost up to $3,000, depending on a host of factors. By contrast, according to Planned Parenthood, abortion in the first trimester can cost up to $1,500, but is often less.
Planned Parenthood explains the price is dependent upon things like where the abortion is performed, whether your health insurance will cover some or all of the cost and how long a woman has been pregnant.
Your abortion may be free or low cost with health insurance, but some insurance plans don't cover abortions. You can call your insurance provider directly to find out their policies. Some government health insurance plans in certain states (like Medicaid) cover abortion, but others don't. And some plans only cover abortion in certain cases. Your local Planned Parenthood can give you more information about coverage in your state, or other funds that can help you pay for an abortion.
According to Bigthink.com, the average cost of an abortion in the U.S. varies from $451 (at 10 weeks) to $1,500 (at 20 weeks.) Plus, in 32 states, there is no financial assistance available to low-income women who want to have an abortion for reasons other than life-threatening medical problems or in instances of rape or incest. That means, if a women lives in a state that doesn't help low-income women pay for abortions, she has little choice but to save her non-existent earnings for the procedure or carry and deliver a child she cannot afford to take care of.
"If you can't afford an abortion, there are resources to help," Dr. Raegan McDonald-Mosley, Planned Parenthood's Chief Medical Officer, told Glamour. "The health center staff (at your local Planned Parenthood) be able to let you know if there are resources available to you. The National Network of Abortion Funds can help fund abortions — they have a network of funds in each state."
The bottom line: Abortions — and especially late-term abortions — are expensive. The silver lining: At least for now, women in the U.S. still have access to the care they need. However, if you want to help protect woman's continued right to choose, call your lawmakers and let them know this unconstitutional, anti-choice legislation is unacceptable. Because the only people who should have the power to make these decisions are families and their healthcare providers. Period.