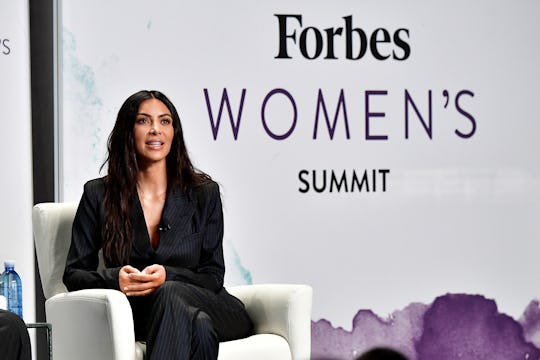 Dia Dipasupil/Getty Images Entertainment/Getty Images
Here's A Breakdown Of Surrogacy Costs
For many Americans, the only information they have about surrogacy is what they've gleanedfrom the 2008 romantic comedy, Baby Mama. However, the real goings on of surrogacy are a lot more complex than Tina Fey and Amy Poehler might make it seem. And as news broke last week that Kim Kardashian and Kanye West have reportedly hired a surrogate to carry their third child, many are wondering how much surrogacy actually costs, and is it an affordable option for the average American?
As Baby Mama viewers will remember, Fey's character shelled out a cool $100,000 for Poehler's character to carry her baby. Hijinks then ensued, obviously, but that number stuck out as being exceptionally high. However, the real cost of surrogacy depends on a variety of factors, including location, the cost of care, and more. Typically, hiring a surrogate in America will cost families an average of $98,000, although those costs could rise (up to $146,500) if the parent needs to use IVF, according to SensibleSurrogacy.com. And as the definition of "family" shifts to a more progressive lens, the number of surrogacy births in the United States is also rising, with an estimated "average of 9 children born every year in each state through a surrogacy agreement," according to Brandongaille.com.
Typically, the cost of surrogacy depends largely on agency fees, insurance costs, and legal and travel costs. Of course, that is all in addition to the flat rate gestational surrogate cost, which in itself runs at least $42,550, per Conceivabilities.com.
And in Kardashian's own surrogacy contract, there is also a stipulation that she will pay the surrogate more if the pregnancy results in more that one baby, which, according to TMZ, will be an additional $5,000 per child. Kardashian and West will also pay $4,000 "if the surrogate loses reproductive organs," TMZ reported. These are standard fees for surrogacy, it seems.
While everyone who uses a surrogate has their own reasons for doing so, Kardashian has struggled with her previous two pregnancies, and was told having a third child the old fashioned way could be seriously dangerous. Per BuzzFeed, "a doctor has categorically told her that a third would put her life in danger."
Being a mother to 4-year-old daughter North, and 18-month-old Saint has obviously changed Kardashian's life, and she wants another child to add to the family. "I'd love nothing more than to expand my family and just know that I have this world at home that's safe," she said on an episode of Keeping Up With The Kardashians, according to People. "And if for some reason I left this earth sooner than I really wanted to, then my kids would have a support system at home — so that I know that they would be okay if I wasn't here."
And for many parents-to-be out there, surrogacy is the only viable option. Whether it be health issues, biological roadblocks, or something else, surrogacy can be a truly monumental decision. And it's nothing out of the ordinary. Surrogacy has become so commonplace that there's even an app for finding the right surrogate for you.
While it's not necessarily for everyone, and it certainly isn't cheap, surrogacy might be the only way for someone to have a baby of their own, and that's pretty great.