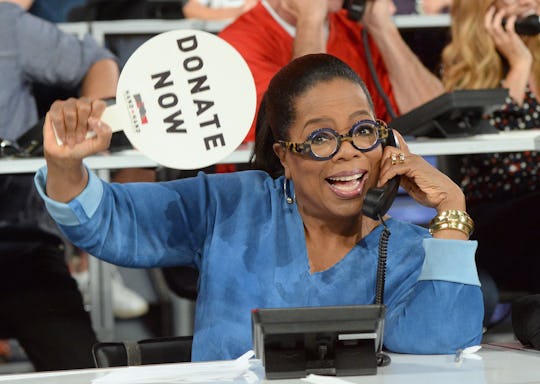 Kevin Mazur/Hand in Hand/Getty Images Entertainment/Getty Images
You Can Still Help The Hurricane Relief Telethon & Here's How
On Tuesday, some of the entertainment industry's biggest stars gathered across the United States to help raise relief funds for the victims of Hurricanes Harvey and Irma through "Hand in Hand: A Benefit for Hurricane Relief." The hour-long telethon was broadcast across every major network and live-streamed online with no commercial interruption, with celebs like Oprah, Justin Bieber, and Tom Hanks manning the phones. The Hurricane Relief telethon raised an impressive amount of money — and even though your chance to chat it up with Nicki Minaj or Leo DiCaprio may have passed, you can still help.
With four studio locations in New York City, Los Angeles, Nashville, and San Antonio, the Hand in Hand benefit featured more than 130 various celebrities including actors, musicians, comedians, and a number of live performances. In just an hour, the Hand in Hand benefit raised more than $14 million, according to Variety, with funds benefitting nearly a dozen difference charities helping the victims of Hurricanes Harvey and Irma. But the fundraising didn't stop as soon as the broadcast ended; in the hours following the telethon, the event raised $30 million more, bringing Tuesday's telethon total to $44 million, Variety noted.
Just because the broadcast is over, doesn't mean that fundraising efforts through Hand in Hand have stopped — and here's how you can still help.
Donate Via Text
The telethon phone number associated with Tuesday night's broadcast is either overloaded and endlessly busy, or has been taken offline — I'm not sure which. I personally tried calling the number and sat on hold for 10 minutes before I finally hung up. However, donations by text to Hand in Hand still appear to work.
You can text "GIVE" to 80077 to donate $25. I tried it myself on Wednesday and was prompted to confirm my donation before it went through.
Donate Online
The Hand in Hand website is still live and taking donations online. The donation portal comes with pre-loaded donation amounts ranging from as little as $25 to as much as $500. You can also enter your own amount. Best of all, you can make your donation via credit card or through PayPal, one of the Hand in Hand benefit's partners. Personally, I like donating online because it kicks back an email confirmation of my donation, which I can then file away for taxes next year.
Score Some Merch
The Hand in Hand logo is simple, and yet so effective. It also makes for some seriously sweet swag. As of Wednesday, there are three different items available for purchase in the Hand in Hand shop, each available in black and white options: a t-shirt, a hoodie, and a "dad" hat. (Weirdly, I remember these hats being known as "baseball" hats, but I'm not going to pick semantic straws in an effort to help the victims of Hurricanes Harvey and Irma.) According to the Hand in Hand website, net proceeds from the sale of Hand in Hand merch will go to the Hand in Hand Hurricane Relief Fund, managed by Comic Relief.
During Tuesday night's telethon, a number of companies pledged their support for hurricane relief: Apple pledged $5 million in hurricane relief, as well as pharmaceutical giant Merck, who donated $1 million to relief efforts. Between these corporate donations and the generosity of everyone who tuned in and donated Tuesday night, it's a substantial amount of funds raised to help the millions of victims across multiple states affected by two back-to-back catastrophic hurricanes over the past two weeks.
Even so, AccuWeather reported on Monday that hurricane damage from Irma and Harvey could total up to more than $290 billion. As wildly successful as the Hand in Hand benefit was on Tuesday, $44 million is a drop in a bucket compared to estimated damage costs from the two storms — which means the victims of Hurricanes Harvey and Irma will continue to need our help for months or even years on end.
Watch Romper's new video series,Romper's DoulaDiaries:
Check out the entire Romper's Doula Diaries series and other videos on Facebook and the Bustle app across Apple TV, Roku, and Amazon Fire TV.