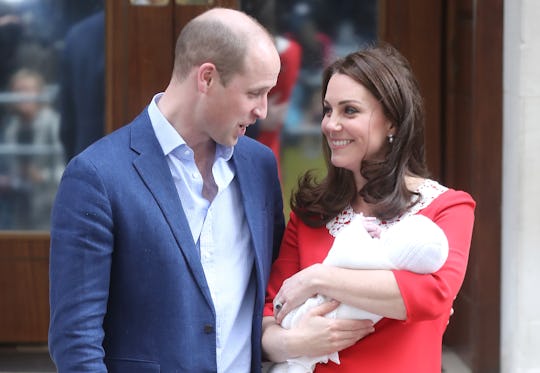 Chris Jackson/Getty Images Entertainment/Getty Images
U.S. Moms Pay *More* For Delivery Than Kate Middleton Did, According To A Very Depressing Chart
It's no secret that having babies in the United States is expensive business. As new parents quickly discover after bringing their newborns home — usually when those terrifying hospital bills start rolling in — labor and delivery fees, as well as postnatal care for mom and baby, cost a pretty penny. What's particularly frustrating is that the cost of having a baby varies widely from state to state. And don't even get me started on how the U.S. compares with other industrialized countries. *Shudders* But if you really want to put everything into perspective, here's how much the royal delivery cost compared to how much U.S. moms have to pay.
On Monday, April 23, Prince William and Kate Middleton welcomed their third child, People reported. As with her previous births, Middleton delivered in the private Lindo Wing of St. Mary's Hospital in London. The baby boy weighed in at 8 pounds, 7 ounces, and no name has been announced yet. While it's true that Middleton left the hospital only seven hours after delivering the new prince, she did enjoy top-of-the-line accommodations during her stay, Time reported. These included: "Access to state-of-the-art equipment, WiFi, modern decor, daily newspapers, meals prepared by on-site chefs and afternoon tea," and more, according to a Lindo Wing informational document, the publication reported.
So how does the cost of a royal delivery compare to what moms in the U.S. pay, you ask? On average, U.S. moms are actually paying more for a normal — and non-royal — delivery than what Kate Middleton shells out for the royal birthing experience, Time reported. For real. I'll just let that sink in for a moment.
Vermont Sen. Bernie Sanders shared a chart on Tuesday that showed the costs of delivering the royal baby came to $8,900. For moms in the U.S., the cost is roughly $10,808, and that's without all the royal bells and whistles (and a much higher maternal mortality risk...).
So let's take a look at numbers, here, shall we? The Lindo Wing's maternity prices document shows that Prince William and Middleton will be responsible for at least £6,275 (roughly $8,000) for one night in a deluxe room. They might have also opted to reserve a suite for an additional fee, which would bring the bill up to $9,650, Us Weekly reported. According to data from FAIR Health, the average cost of a vaginal, no-complication delivery in the U.S. is $12,290, HuffPost reported in November 2017. Uh, yeah. That's a pretty significance difference right there.
For the record, The Economist compared a different set of estimates — and the average U.S. delivery still came out higher than a royal delivery. In 2015, it cost $8,900 for 24 hours in a Lindo Wing deluxe room with a non-C-section delivery, according to the publication. A 2015 survey by the International Federation of Health Plans showed the average price for that type of delivery in the U.S. was $10,808. Oh, and did I mention that Middleton will get a 10-percent discount, according to Time, since she previously gave birth at the Lindo Wing? Isn't that lovely.
Keep in mind that we're only talking delivery costs, here. None of this is including postnatal care, meals, charges from multiple-night stays, additional procedures, etc. Truven Health Analytics found that U.S. hospital charged mothers who had employer-provided insurance an average of $32,093 for natural births and $51,125 for C-sections. Most of this cost, however, was covered by insurance.
For me, it's the principle of the matter that gets me. In what world is it acceptable for parents of a royal baby to be charged less for a delivery at a private, state-of-the-art facility with awesome accommodations — while the average U.S. parents are left paying more. (With crappy hospital food, to boot.) Answer: This world, apparently.
So the next time you find yourself daydreaming about what it would be like to live in a castle, be married to a prince, and have Kate Middleton's amazing hair/wardrobe, just remember: She also pays less than you for labor costs.
Check out Romper's new video series, Bearing The Motherload, where disagreeing parents from different sides of an issue sit down with a mediator and talk about how to support (and not judge) each other's parenting perspectives. New episodes air Mondays on Facebook.