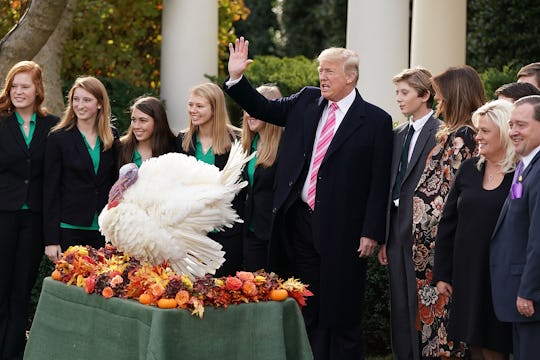 Chip Somodevilla/Getty Images News/Getty Images
Here's How Much Trump's Thanksgiving Costs Taxpayers Compared To Obama's
For many Americans, Thanksgiving is a time for gratitude, turkey-and-pumpkin-pie-filled food comas, and futile attempts to avoid political arguments with extended family members. At the White House, Thanksgiving is also a pretty big deal, and though the menu may be fancier (and the familial bickering hopefully at least better concealed), the tradition of the POTUS sitting down for a meal with his family is well-established. This year, according to Newsweek, President Donald Trump has opted to celebrate the holiday with his family at his Palm Beach, Florida estate Mar-a-Lago, and in case you need yet another reason to drown your sorrows in stuffing and cranberry sauce, here's how much Trump's Thanksgiving costs taxpayers compared to Obama's in 2016.
On Tuesday afternoon, Trump left the White House for a five-day visit to Florida — presumably not long after participating in the annual presidential "turkey pardon" in the Rose Garden, in which the POTUS ceremonially pardoned this year's chosen bird, a 36-pounder named Drumstick, according to The New York Times. It was a light-hearted photo-op for Trump, who was surrounded by his family at the time. But as Newsweek has noted, his decision to spend Thanksgiving not in Washington, but at his so-called "Winter White House" will prove to be an expensive move for a president who has long vowed to fight back against unnecessary government spending.
Trump's travel expenses while in office have already been widely criticized: according to The Washington Post, it's estimated that each of the president's trips to Mar-a-Lago costs around $2 million (his current Thanksgiving trip will mark his eighth visit as president). But that doesn't include the significant costs associated with protecting him and his family while they are there. All in all, Newsweek has estimated that the president's five-day visit will cost taxpayers around $16 million in travel and Secret Service security costs — plus approximately another $70,000 per day for additional security by police in Palm Beach county.
In comparison to Trump's Thanksgiving plans then, President Barack Obama's 2016 Thanksgiving looked downright quaint. According to ABC News, Obama spent his last Thanksgiving as POTUS with his family at the White House, making phone calls to military service members deployed overseas, pardoning his final two turkeys (while cracking some truly awful dad jokes), and enjoying an impressive Thanksgiving meal that featured hors d'oeuvres, a dinner buffet with four different entree options, two varieties of stuffing, and six different types of pie for dessert.
As decadent as that may sound though, The Guardian noted that, like all presidents, Obama actually paid for the meal himself. In fact, while official government receptions and White House operating expenses (including rent, utilities, household staff, transportation, and security) are covered by the government, the president and his family are required to pay for all their food and beverages themselves (along with anything consumed by private guests), as well as for their own personal items, like toothpaste or shampoo.
Trump, of course, will also be expected to cover his own personal costs this Thanksgiving, and unlike Obama, who received a salary of $400,000 annually as president plus a $50,000 allowance, Trump will presumably be funding his family's meal directly out of his pocket. According to Politifact, so far Trump has indeed followed through on his campaign promise not to take a salary as president, and has instead donated his earnings from his first two quarters in office to government entities (the National Parks Service and the Department of Education).
As laudable as that certainly is for a man who has long boasted about his own personal wealth, it may have actually been much more valuable to taxpayers if he'd actually taken the salary and opted to stay in Washington for Thanksgiving instead. Compared to the millions of dollars in expenses he will incur during his trip to Mar-a-Lago, Trump's donated salary so far only adds up to about $360,000 (including unspecified "additional donations," according to White House Press Secretary Sarah Huckabee Sanders).
To be fair, President Barack Obama also incurred pretty significant travel costs as president, and in 2013, for example, Obama also took a similar four-day trip to Florida at an estimated cost of approximately $3.6 million, according to CNN. Overall in his eight years in office, Obama racked up just under $97 million in travel expenses, which included the cost of his private vacations to Aspen and annual trips to Martha's Vineyard. Those trips became popular targets of Trump's Twitter criticism over the years, yet Obama's expenses still fall far short of Trump's own spending: in April, CNN reported that Trump was already on track to spend more in his first year in office than Obama did in his two terms combined.
There's nothing wrong, of course, with the president wanting to take some time away to celebrate Thanksgiving with his family — even the POTUS needs some time off every now and then. But the steep cost to taxpayers that is associated with this kind of travel, especially from a president who is so intent on cutting funding to government programs, is yet another reason why so many Americans are frustrated with Trump's choices. So next year, it might be time for the president to consider spending the holiday at his presidential home instead of his Florida estate — at least if he isn't planning on actually footing the bill for his travel costs.