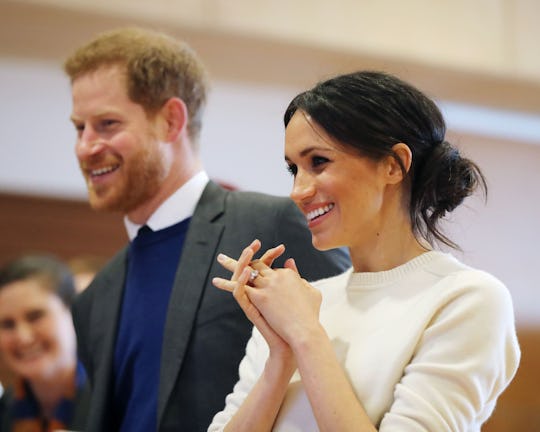 Pool/Getty Images Entertainment/Getty Images
Here's How Prince Harry & Meghan Markle Are Honoring Princess Diana At Their Wedding
Unless you're completely unplugged from any British Royal Family news, you're probably at least semi-aware that Prince Harry and Meghan Markle are getting married on Saturday, May 19 at Windsor Castle in the United Kingdom. They announced their engagement to the world in November, and now all eyes are on England as another royal wedding date approaches. People are very interested in every aspect of this wedding — from the guest list, to the ceremony, to the flowers and other decor, and more. And speaking of flowers, it sounds like the floral arrangements are just one way that Prince Harry and Meghan Markle are honoring Princess Diana at their wedding.
Princess Diana became the beloved Princess of Wales when she got married to Prince Charles, Prince Harry's father and the heir to the British throne, according to Biography. In 1982, they had their first child, Prince William, who is next in line to the throne after his father. And in 1984, Prince Harry was born. Princess Diana and Prince Charles eventually divorced, but she was still very much a part of her young son's lives.
Sadly, Princess Diana died as a result of a car accident in 1997, after undergoing surgery at a hospital to try to save her life, according to USA Today. The incident completely shocked the world, and memorial events persist even 20 years later.
A lot of people have been curious whether Prince Harry would choose to honor his mother in certain ways on his wedding day, and the floral arrangements seem to be one very obvious way he is doing so. The flowers will reportedly include white garden roses, which were apparently one of Diana's favorite flowers, according to People. What a lovely way to have her there in spirit.
It sounds like this affair is shaping up to be less of a "state event" than Prince William's marriage to Kate Middleton was, and like Prince Harry and Markle have a little more freedom over certain aspects of the occasion. And that includes the guest list. Fewer politicians and other dignitaries are set to attend, but Diana's side of the family will be "well represented" at the wedding, according to Vanity Fair.
Prince Harry's uncle Earl Spencer, his aunts Lady Sarah McCorquodale and Lady Jane Fellowes, and all of his cousins were reportedly invited to the big day. A family friend told Vanity Fair:
Harry has always kept in close touch with the Spencers and they have all received invitations. Harry gets on well with his aunts and uncle and they have met Meghan. His cousins all have the golden ticket—an invite to the ceremony and reception and the evening party.
So even if his mother can't be there, it's wonderful that much of her family have the opportunity to support Prince Harry at his wedding.
Plus, Princess Diana will be honored in another way at the event — a small but extremely meaningful way. Two stones in Markle's engagement ring are actually from his late mother's personal collection, and he designed it himself, according to People. That's literally a small representation of the late Princess Diana and her tastes, but it speaks volumes about Prince Harry and how he feels about his bride-to-be.
Markle spoke about the ring during the couple's engagement interview back in November. She made it clear just how touched she was by her fiancé, and she told the interviewer what having those stones included meant to her. She said, according to People:
I think everything about Harry's thoughtfulness is – and the inclusion of that and obviously not being able to meet his mom it's so important to me to – to know that she's a part of this with us. And I think in being able to meet his aunts and – and also like Julia and just different people who were so important to his mom, I'm able to, in some way, know a part of her through them and of course through him. And it's – it's incredibly special.
It's a really beautiful thing that Prince Harry and Markle have found ways to honor Prince Harry's mother during the ceremony. Even if Princess Diana can't be there, it's clear that her presence, and the influence she had on her royal son, will still be felt.