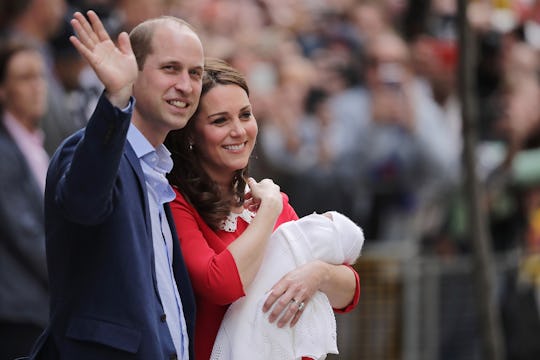 Dan Kitwood/Getty Images Entertainment/Getty Images
Here's How Prince Louis' Net Worth Could Stack Up Against His Royal Siblings
Prince Louis may not even be a month old yet, but already he's got a net worth estimated in the billions, which is an impressive feat for only having been alive for just a number of days. The tiny prince is, of course, the third child to be born to the Duke and Duchess of Cambridge, so if you're curious about how Prince Louis' net worth stacks up against his siblings, here's what you need to know.
There are various reports estimating what the royal kids net worths are, and there's a reason there isn't an exact number yet. Business Insider reported that since Prince George, Princess Charlotte, and Prince Louis haven't actually received their inheritance yet, their net worth is calculated not only by what they receive from their family, but the "value that they add to the UK economy." That report suggested that Prince George's net worth is an estimated $3.6 billion and Princess Charlotte's is an estimated $5 billion. Princess Charlotte's increased value is, presumably, due to her influence in commerce (it's called the "Charlotte Effect," as The Observer explained, and means that anything she wears regularly sells out, basically).
Prince Louis' net worth is probably similar to his siblings, as Marie Claire reported, which cited that Prince George and Princess Charlotte are £2.4 billion and £3 billion, respectively. The report stated that Prince Louis would probably be close to that, though at this point in time, probably less.
In 2017, Forbes reported that the royal family was worth an estimated $88 billion altogether, but that isn't the only notable number when it comes to royal finances. Time reported that Queen Elizabeth has the largest net worth of them all at $520 million, and then Prince Charles coming in at $400 million.
However, the impact that their family has on the U.K. economy goes far beyond their private holdings, which is why their total net worth (especially for the kids) is calculated based on their potential influence. The Forbes report outlined the following:
The monarchy contributes £1.8 billion to the U.K. economy annually.
Their net worth includes properties like Buckingham Palace, the Royal Collection of Art, the Crown Jewel collection, altogether totaling about $33 billion.
The family adds $55 billion to tourism, business trade, and fashion each year.
The family's impact on tourism is estimated at £550 million each year.
The family's impact on overseas trade is about £150 million each year.
Kate Middleton's wardrobe alone generates an estimated £200 million in sales each year.
Media coverage, shows and movies about the family generate about £50 million each year.
Needless to say, the family has a deep impact not only on the U.K. economy, but the global one. They influence people on what to buy, where to travel, and how to invest, so it makes sense that their net worths are calculated not just by what they own, but what they potentially contribute to the United Kingdom.
As for how the royal kids will be receiving their inheritances when they get older? Well, it may be helpful to look to how Prince William and Prince Harry received theirs. Forbes reported that each brother received $10 million when they turned 30, and also began receiving dividends of $450,000 when they turned 25.
However, despite the money they were given, it seems that Prince William and Prince Harry especially have taken a more grounded approach to their royal positions. Time reported that Prince William used to make an annual salary of $62,000 when he worked as an East Anglican Air Ambulance pilot, and Prince Harry made $45,251 annually when he was in the military, Fortune reported.
Of course, all of this is to say that despite the immense worth the royal kids were born into, it doesn't necessarily mean they'll be taking any of it for granted. If Prince William parents similarly to how he was raised, the world can expect Prince George, Princess Charlotte, and Prince Louis to be active in their civic and royal duties, which TBH, is refreshing to say the least, given that he and Middleton are raising little billionaires.