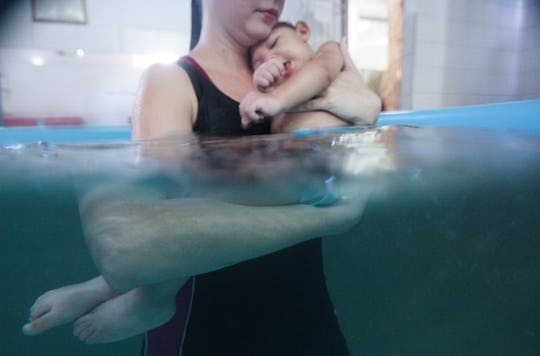 Mario Tama/Getty Images News/Getty Images
How States Plan To Protect People From Zika
As the 2017 mosquito season draws near, states are bracing for another potential outbreak of the Zika virus, the mosquito-borne illness responsible for microcephaly in babies born to infected people. State health officials across the country have started to ramp up prevention efforts, encouraging residents to get tested and use repellent. Since parents-to-be are especially vulnerable, here's how states plan to protect pregnant people from Zika.
According to the U.S. Centers for Disease Control and Prevention, there have been more than 5,260 Zika cases reported between January 1, 2015 and April 26, 2017. The majority of those cases occurred in people traveling from affected areas, although 224 total reported cases in Florida and Texas were due to local mosquito-borne transmission. Although Zika outbreaks have died down in some states, public health officials are remaining diligent as this year's mosquito season approaches.
States, though, are worried that they won't have the federal dollars needed to support their prevention efforts. According to PBS, the CDC has told state health departments that Zika funding will likely run out this summer, although it was intended to last five years. State health officials have said that the lack of federal money could hurt efforts to provide prevention services, as well as services for infants born with Zika-related birth defects, PBS reported. Still, states are forging ahead with plans to stop the virus not only in their region, but also across the country.
California
According to the CDC, California saw at least 444 confirmed Zika cases between January 2015 and April 26 of this year. Although nobody in California has contracted Zika from a mosquito in the state, health officials are still concerned that the insects could soon start spreading the virus, according to Fox News. That's because, according to the Los Angeles Times, the Aedes mosquito — the insect that carries Zika — has been found in 12 counties in California. To prepare for the oncoming season, the Los Angeles County Department of Public Health will put surveillance sites at clinics in areas vulnerable to a local Zika outbreak, the LA Times reported. Health and mosquito-control officials in the state are also developing long-term plans to curb the Aedes mosquito population, such as sending workers door-to-door to check homes for standing water.
Florida
According to ABC News, health officials from Florida reported last month that no Zika has been found in mosquitoes in the state, meaning that there's no longer an ongoing outbreak. The Florida Department of Agriculture and Consumer Services officials had detected a trace of the virus in the 90,000 individual mosquitoes they tested since the 2016 outbreak, which the CDC reports saw more than 1,100 cases. But mosquito control experts have warned people in Florida to remain diligent as Zika could easily return this season, according to the Miami Herald; in fact, pest control company Orkin released its top 50 mosquito cities and five cities in Florida made the top 20.
To prepare for the 2017 mosquito season, mosquito control districts have asked the state for $3.8 million to put towards research and boost anti-mosquito efforts in counties that have small budgets. Fox News also reported that Tallahassee lawmakers committed $2.6 million in this year's budget towards Zika prevention — the same amount Gov. Rick Scott asked to be spent in the 2017/18 state budget.
New York
Last year, more than 1,000 confirmed Zika cases were reported in New York, making it the second hardest hit state following Florida, according to CDC numbers. According to Fox News, New York City has earmarked $21 million over three years for Zika prevention, with $12 million going towards mosquito control (New York City had the highest number of reported cases of pregnant women infected with Zika.) The state's still crunching the numbers for how much it will put towards Zika prevention this summer, but it did commit $2.1 million to fighting the virus through February of this year, Fox News reported. Only one region in upstate New York, Albany-Schenectady-Troy, made Orkin's list.
Texas
Since January 2015, Texas has seen more than 300 confirmed Zika cases, according to CDC data, including 10 new cases this year. According to the Texas Department of State Health Services (DSHS), the risk of contracting Zika is on the rise and temperatures continue to climb in the state. (Dallas-Fort Worth, Austin, and San Antonio have made Orkin's top 50 list of the worst mosquito cities in the country.) In response, DSHS has urged all pregnant people in six South Texas counties — Cameron, Hidalgo, Starr, Webb, Willacy, Zapata — who are in the first or second trimester to get tested for Zika.
The public health alert, issued last month, also extends to anyone who has a rash and one other Zika-related symptoms, such as a fever or joint pain. Additionally, the state will once again give people enrolled in Medicaid a mosquito repellent to help with Zika prevention, according to DSHS. This is especially important for pregnant people in that state; according to researchers from the University of Texas Medical Branch at Galveston, pregnant women in Southeast Texas may not be aware of how Zika spreads or taking the necessary steps to protect against the virus.
Dr. Abbey Berenson, lead author of the study, said in a statement,
A key finding of our study was that many pregnant women who may be at risk of contracting the Zika virus do not use mosquito repellants because they fear they are unsafe during pregnancy. But this is not true. Mosquito repellents that are registered with the Environmental Protection Agency are not only safe to use, the CDC actually recommends pregnant women use them in areas with Zika virus transmission.
Virginia
Although, per CDC data, Virginia has only reported 115 confirmed Zika cases since January 2015, health officials in the state are pushing prevention efforts as the 2017 mosquito season nears. According to U.S. News, the Virginia Health Department has launched a website to provide residents with tips on how to combat the virus. State officials are also asking residents who've traveled to regions affected by Zika to protect themselves against mosquitoes for at least three weeks after they've returned to keep the virus from spreading.