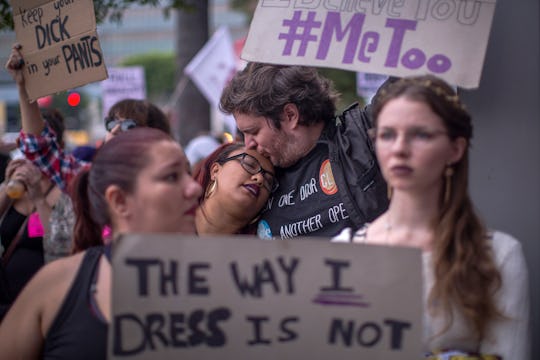 David McNew/Getty Images News/Getty Images
Here's How You Can Donate To The Time's Up Initiative To Help Fight Sexual Harassment
To take a stand against sexual harassment, hundreds of women in the entertainment industry formed a group called Time's Up that launched on New Year's Day. It's a pretty impressive project, and if you want to get involved, you can donate to the Time's Up initiative, too and show your solidarity.
The initiative is leaderless, but broken into working groups. One, led by Anita Hill, is drafting legislation that would regulate companies that have a history of sexual harassment and assault complaints and discourage the use of non-disclosure agreements to silence the victims.
Another is a group concerned solely with making sure minorities and LGBTQ people also get support when it comes to sexual harassment at work and one more is pushing for companies to make sure their boards and leadership positions are more diverse. As you can see, it's a complicated outfit, so the more people pitching in, the better.
Already, they've raised around $13 million from 500 donors for its legal defense fund. The fund will be used to help lower income women fight their cases, since not everyone is a Hollywood actress making millions of dollar per gig. Right now, you can donate through a link on the website but it looks like soon there's also going to be a merch store, so if you want some swag, you'll have to wait until that's up.
People are donating whatever they have already, but the real money is coming from people in Hollywood. So far, people like Reese Witherspoon, Shonda Rhimes, Steven Spielberg, and Meryl Streep, according to BuzzFeed, have contributed to the fund to meet the $15 million goal. But why stop there, right?
Witherspoon told the New York Times that the group is all about finally getting something done and working together to do it. She said:
We have been siloed off from each other. We're finally hearing each other, and seeing each other, and now locking arms in solidarity with each other, and in solidarity for every woman who doesn't feel seen, to be finally heard.
Rhimes told the Times that it reminded her of being a little girl and working with her mom to register voters in her neighborhood. "We're a bunch of women used to getting stuff done. And we're getting stuff done," she said. What better way to start off the new year than that, right?
There's not a whole list of all of the members (or donors) of Time's Up, but they do provide bios for all the women in charge of managing the legal defense fund, so you know who's going to be handling your donation.
Ultimately, the fund will be administered by the National Women's Law Center, which is national women's rights legal organization that's been providing subsidized legal help to those who need it for forty years. The Time's Up website explains:
A network of lawyers and public relations professionals across the country will work with the Center's Legal Network for Gender Equity to provide assistance to those ready to stand up. Access to prompt and comprehensive legal and communications help will mean empowerment for these individuals and long term growth for our culture and communities as a whole.
The defense fund might just be the most important feature of the initiative, although all of the work really works in tandem with each other. Sexual abuse and misconduct runs rampant in all industries, and some women have more financial freedom to fight it (or at least get out of a predatory situation).
It's so important that more privileged women help each other stand up to toxic masculinity. It's way too early to get too excited about what the Time's Up initiative will accomplish going forward, but good things happen when women work together to help each other. It's about time people start to work on fixing the broken system.
Check out Romper's new video series, Romper's Doula Diaries:
Watch full episodes of Romper's Doula Diaries on Facebook Watch.