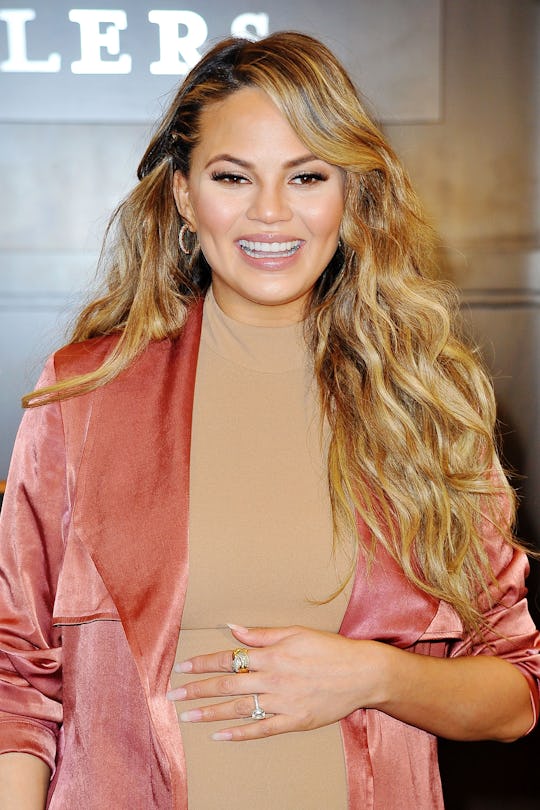 Jerod Harris/Getty Images Entertainment/Getty Images
Here's How To Have Chrissy Teigen's Baby Shower, Because She Really Is The Coolest
Supermodel Chrissy Teigen is just weeks away from delivering her baby girl, and to celebrate, friends threw Teigen and husband John Legend a second baby shower in Los Angeles, according to E! News. And, if the couple's first princess-themed party didn't leave her pregnant fans (myself included) with tons of adorable ideas for their own baby showers, the second party, thrown by Teigen's good friend Kim Kardashian, certainly would have. And the good news is, having a baby shower like Chrissy Teigen doesn't really look all that difficult, according to Instagram photos from Teigen's big day — as long as you can commit to keeping things as laid-back and stress-free as possible.
And honestly, there's no better time than pregnancy to throw the weight of other people's expectations out the window. Not sure about all you other pregnant women out there, but almost as soon as I shared that there was a baby on the way, well-meaning friends and family came at me with advice about everything from what I should be eating to whether I should breastfeed. Teigen has become kind of an icon on that front, deftly side-stepping (or outright shutting down) the critics that seemed to come out of the wood works as soon as she announced her pregnancy.
First, Persuade Your Most Laid-Back Friend To Play Host
Seriously. While the talents of your most etiquette-savvy, Type-A friend might come in handy for planning any other huge gathering, you'll need a slightly different approach to capture the super-cool vibe in this baby shower. For Teigen, the solution came in the form of close friend and shower host Kim Kardashian, according to CNN. When in doubt, recruit the friend more like Tina Fey than Martha Stewart — good times are pretty much guaranteed.
Go With Simple Decor: Flowers & Food
While Legend and Teigen's stylish first baby shower featured a lush, royal theme — the couple wore matching crowns and nibbled on carriage-shaped cookies — the second shower was all about keeping things cool and simple. E! reported that the party was held outdoors at Kardashian's home and featured a pink and white theme. My takeaway here is that, instead of lots of fussy centerpieces or props to worry over, try to keep the baby shower decor minimal: flowers everywhere.
Speaking Of Food, Choose A Menu That Reflects Your (Pregnant) Palate
Sure, you could play it safe with a traditional baby shower menu (think: finger foods and tiny desserts). But to take your baby bash to another level like Teigen did, try offering guests a taste of some of your biggest pregnancy cravings. Teigen's shower menu featured McDonald's Sausage McMuffins and hash browns from McDonald's along with other traditional breakfast offerings like an omelet station, stuffed French toast, yogurt parfaits, and kale salads, according to E! News.
Such a cool idea. Of course, I'd have to personalize it a bit for my shower by calling the folks at Taco Bell and requesting a few crates of my biggest cravings: Quesalupas, hot sauce, and caramel empanadas.
Finally, Take Plenty Of Gorgeous & Fun Photos
I could be wrong, but the photos from Teigen's baby bash released on Instagram don't seem to show any of the tried-and-true games normally seen at baby showers. No one seems to be measuring out toilet paper to see just how close they can get to Teigen's new waist size. And I didn't spot any diapers "soiled" with melted candy so that guests can "guess the mess." But what I do see is plenty of places for cute candid shots and glammed-up selfies. And why not? The party is all about celebrating the gorgeous/glowing/well-rested mother-to-be, after all.
Seriously, that might be the most amazing — and relatable — baby shower ever thrown. Thanks to Teigen's down-to-earth personality, and the Kardashian fun factor, those of us looking for ways to have a quirky, off-beat baby shower just got a pretty simple blueprint to follow. This is one Kardashian party that could easily happen in real life.