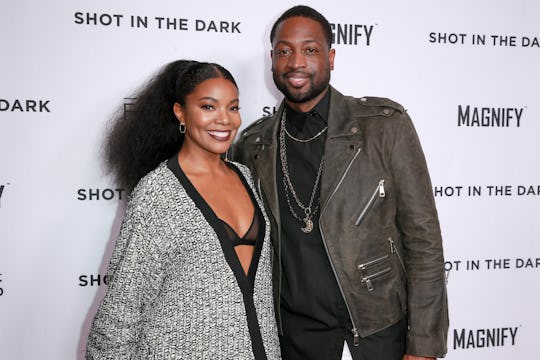 Rich Fury/Getty Images Entertainment/Getty Images
Here's How To Pronounce Gabrielle Union & Dwyane Wade's Daughter's Unique Name
Gabrielle Union surprised everyone earlier this month when she announced that she and husband basketball player Dwyane Wade welcomed their first child together through a surrogate. Over the past few days, Union and Wade have let fans get a glimpse of their life with their daughter, Kaavia. But, their fans might be wondering how to pronounce Gabrielle Union and Dwyane Wade's daughter's name — because a name that pretty deserves to be properly pronounced.
Ever since their daughter was born Nov. 7, according to USA Today, both Union and Wade have been sharing glimpses of their daughter with the world — without sharing her name. But, on Friday, Union not only revealed on Instagram that they decided to name their daughter Kaavia James, but also why they decided to name their daughter such a pretty and unique name.
"Kaavia James is pronounced Kah-Vee-Uh James," Union wrote in the caption of the Instagram post.
But of course, with a pretty hard to pronounce name, Union revealed Kaavia also has a ton of nicknames. "She has 102 nicknames including but not limited to Kaav, Kaavi, Kaavi Baby, Kaavi J, Jamie, Nugget, Nug, and Pooters."
Like most names, Union revealed that there is a special meaning behind Kaavia's middle name.
As Union explained on Instagram:
We wanted to include my family in her name so the "James" is from my uncle James Francis Glass who is also my godfather. Union is her middle name. I've waited this long so fo sho I was gonna get in there.
Although it is unclear if Kaavia's name has any special meaning to the couple, it really could not be more beautiful. Kaavia is a name that has Kalabrian origins, according to Miami.com, and reportedly means that the person with the name has "an appreciation for beautiful and refined aspects of life-music and art," among other things. Now that sounds like a pretty good association to have with a name to me.
But, Kaavia isn't a super popular baby name, according to Baby Center. Another version of the name, Kaaviya, was ranked number 18,801 among the top baby names in 2018, and was most popular among in 1998. But, since Union is such a trend setter, it's super likely that this name will see an increase in popularity — especially since it really is so pretty.
Union's Instagram followers seem to agree, taking to the comments to share their thoughts about her daughter's name — they think it makes her super unique.
"I love KJ. Dope nickname," one commenter wrote. "And thanks for telling us how to pronounce it!."
"Her name is so dope!," another commenter added. "Already standing out."
The name is so special to the couple that Wade revealed on Instagram on Friday he had gotten his daughter's name tattooed on his shoulders during a trip to China. Talk about having so much love and devotion to their daughter.
But it makes sense why Wade would permanently ink their daughter's name on his shoulders — because their journey to having their daughter was one that they will never forget. In her book, published in 2017, Union revealed that she had at least eight miscarriages, according to Entertainment Tonight, and has a form of endometriosis, which affects Union's uterus. So, the couple decided to use a surrogate when it came time to wanting a kid, according to TODAY, and welcomed their daughter into the world in early November. In an announcement on Instagram, Union called Kaavia her "miracle baby." How sweet is that?
Now that Kaavia's name has been announced, the couple also made an Instagram account for her, where they are posting super new photos of their daughter. Given that Kaavia is such a unique and pretty name, it's going to be hard for people to forget how to pronounce it, thanks to Union's help.