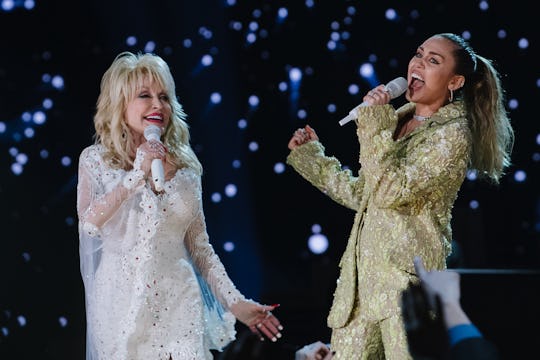 Emma McIntyre/Getty Images Entertainment/Getty Images
Wondering How To Rewatch The 2019 Grammys? Here's Everything You Need To Know
This year's Grammy Awards was one for the books. A star-studded list of performers, a bit of controversy, and my new favorite awards show host of all time, there wasn't a minute of the show you'd want to miss. But, if you did miss it, here's how to rewatch the 2019 Grammys. Thank the music gods for streaming, am I right?
The 2019 Grammys aired on CBS, and for those without cable subscriptions, the network also streamed the show on both the CBS and CBS All Access apps, according to Wired. The apps are available on iOS devices, Android phones and tablets, Apple TV, Xbox consoles, sticks like Roku/Chromecast/FireTV, as well as smart TVs. The CBS website is also featuring a full stream of the show for viewers located in the United States.
Aside from CBS, other live-streaming TV services offered feeds of the show, according to Money. Fubo TV, Hulu Live, DirecTV Now, PlayStation Vue, and YouTube TV all offered streams of the show. Many of these services will likely offer replays of the show as well.
While these are your options for watching the Grammys unfold, as Wired reported, most of the action during massive live events occurs on social media. A scan of Instagram and Twitter will provide you with a rundown of some of the highlights of the show — including the mini scandal that went down during Drake's acceptance speech.
There is a long list of reasons why you'll want to catch up on the Grammys if you missed it, not least of which was supplied by Drake. According to The Verge, after winning being awarded Best Rap Song for "God's Plan," Drake launched into a speech that encouraged musicians "that make music from their heart" to focus on their work, not the recognition they could receive, such as a Grammy.
Before being cut off, Drake explained how the music is "an opinion-based sport, not a factual-based sport," like, say the NBA "where at the end of the year, you're holding a trophy because you made the right decisions or won the games." Instead, according to Variety, Drake suggested that people look to other signifiers of success or failure:
The point is, you've already won if you have people who are singing your songs word for word, if you're a hero in your hometown. Look, look, if there's people who have regular jobs who are coming out in the rain, in the snow, spending their hard-earned money to buy tickets to come to your shows, you don't need this [award] right here. I promise you, you already won.
That was about when the ceremony's producers cut his microphone off and went to commercial. Oops.
But Drake wasn't the only passionate speaker this year. Lady Gaga took on the topic of mental illness awareness during her appearance, according to ELLE. Referencing her roll in A Star Is Born, as ABC News reported, Gaga explained how many artists deal with mental health issues:
They're so important. A lot of artists deal with that. And we gotta take care of each other. So if you see somebody that's hurting, don't look away. And if you're hurting, even though it might be hard, try to find that bravery within yourself to dive deep and go tell somebody and take them up in your head with you. I love you, thank you so much.
Even former first lady Michelle Obama graced the Grammys stage for a segment with Lady Gaga, Jennifer Lopez, Jada Pinkett Smith and host Alicia Keys. According to TIME, her quick speech included a reference to Beyoncé:
From the Motown records I wore out on the South Side to the "Who Runs the World" songs that fueled me through this last decade, music has always helped me tell my story... whether we like country or rap or rock, music helps us share ourselves. Our dignity, our sorrows, our hopes and joys. It allows us to hear one another, to invite each other in. Music shows us that all of it matters, every story within every voice, every note within every song.
Aside from the speeches, the Grammys also featured some serious musical talent. As The Washington Post put it, it was "mostly just one big concert." Performances from Dolly Parton, Travis Scott, Ricky Martin, Miley Cyrus, Katy Perry, Maren Morris, Kacey Musgraves, and more made for a music medley worth a watch — not to mention showstopper host Alicia Keys stepped away from the podium to play not one, but two pianos at once while covering eight songs, as USA Today reported.
You can easily find a list of 2019 Grammy recipients online, but in order to absorb the magnitude of the event, you need much more than a list. But don't take my word for it; go ahead and start that live stream. You won't regret it.