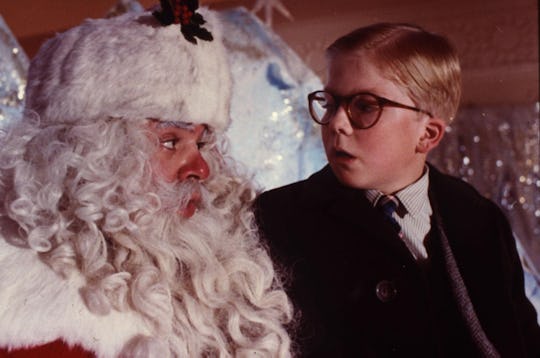 'A Christmas Story' Is Available For Your Annual Holiday Viewing This Year
I think it's fairly common knowledge at this point that A Christmas Story airs every year on TV. Despite a hoax scare orchestrated by who knows who, this tradition will continue this year. However, the story of Ralphie and his Red Ryder BB Gun isn't in everyone's pop culture lexicon. Here's how I learned how to watch A Christmas Story on TV.
See, I didn't grow up with the movie. In fact, I didn't really know of the 1983 film's existence until one holiday season, probably around 18 years ago. That year, my Jewish cousin came to spend a few days with my family, who celebrate both Hanukkah and Christmas, so she could partake in the other festive holiday for a change. I don't recall exactly when it happened, but sometime between opening presents and eating our challah French toast, my cousin asked me, "What channel is TBS? I want to watch A Christmas Story." She was stunned to discover that I had never tuned in.
I'm definitely an outlier in this case. Ever since it was released 35 years ago, A Christmas Story has been considered one of the best holiday movies. And for the last 21 of those holiday seasons, TBS and, sometimes, TNT, has offered us the chance to watch it not once, but 12 times over the course of one day. However, some feared that this had changed.
A recent image circulated the 'net, claiming that the A Christmas Story marathon isn't airing this year as usual. Snopes was quick to debunk this rumor, pointing out that the alleged news source, MomusFeed News, isn't real — I mean, whoever made this clearly copied the font and style of BuzzFeed's logo. Still, many believed the threat, which stated that due to the scene in which Ralphie finally stands up to his bullies, the network had decided not to air the film.
But not to worry — you can still tune in and see Ralphie's dad mourn the loss of his beloved leg lamp on Christmas Day. Of course, there are other options: If you're not lucky enough to have access to a TV that day, or you just want to escape and watch in privacy on your tablet or computer, the TBS and TNT websites have A Christmas Story available for viewing at any time.
If you just need to own the movie, that's feasible, too. A quick search shows that A Christmas Story is available on iTunes, whether you choose to rent or buy. The same goes for Amazon Prime and Vudu. So you can cringe along just as you always do when Flick gets his tongue stuck to the flagpole. And hope that your kids heed the lesson, unlike this preteen:
However you choose to watch, I think we can all agree that A Christmas Story is a worthwhile addition to your Yuletide viewing. It's become increasingly popular to go to the movie theater on Christmas Day, but if you're of the ilk who like to stay home and be warm by the fire, this classic is a great companion. Maybe you can even introduce someone new to it like my cousin did for me.
This first-time mom wants to have a home birth, but is she ready? Watch how a doula supports a military mom who's determined to have a home birth in Episode One of Romper's Doula Diaries, Season Two, below. Visit Bustle Digital Group's YouTube page for the next three episodes, launching Mondays in December.