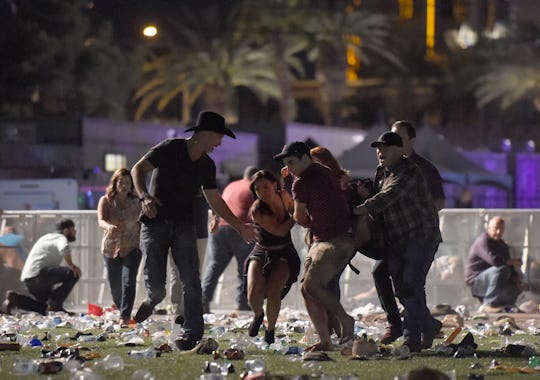 David Becker/Getty Images News/Getty Images
Here's How You Can Donate Blood In Las Vegas
In the aftermath of what is now the deadliest mass shooting in modern American history, it would behoove us all to look for the helpers. Yes, that's not easy to do after a 64-year-old Nevada resident opened fire on an innocent crowd enjoying the Route 91 Harvest Festival, killing more than 50 people and injuring more than 500, but it is possible. The helpers, dear reader, are there. So if you're wondering how to donate blood in Las Vegas and save countless lives in the process, also know this: according to KTNV Channel 13 Action News in Las Vegas, the parking lot in a local blood donation center was full at 3:48 a.m. Look for the helpers. You will find them. Always.
Update: As of 6 p.m. ET on Monday, Oct. 2, CNN reports that 59 people have died and over 500 people were injured. Authorities say the suspect had 18 additional firearms, explosives and several thousand rounds of ammo at his home in Mesquite, NV.
According to an updated account released by the Las Vegas Metropolitan Police Department (LVMPD), the shooter opened fire on a crowd of 22,000 concert-goers from the 32nd floor of the Mandalay Bay Hotel at approximately 10:08 p.m., local time. The Clark County Fire Department, according to the statement, estimated that "approximately 406 people were transported to area hospitals." As one can imagine, blood will be essential as doctors, surgeons, and nurses attempt to save as many lives as physically possible.
According to the United Blood Services Las Vegas website, "donations have been declining for the last several weeks." The site goes on to say they're in critical need of blood supply as their "inventory levels have dwindled."
There are, thankfully, more than a few blood banks and donation centers that local area residents and concerned citizens can donate to, including multiple United Blood Services locations in Carson City, Henderson, Las Vegas, Reno, and Sparks.
LVMP has also directed those who want to donate blood to help the victims of the shooting to the local Labor Health & Welfare clinic, located at 7135 West Sahara Ave., #100, in Las Vegas, Nevada. The clinic, according to its official website, is open Monday through Friday, starting at 8:00 a.m. local time.
Of course, you do not have to be in the immediate area in order to donate blood and/or funds that will aid in the ongoing effort to save as many lives as possible following this horrific mass shooting. If you're in another state or do not have the means to drive yourself to one of the aforementioned donation locations, you can visit the United Blood Services website and find a blood donation center near you.
You can also become a blood drive coordinator in conjunction with United Blood Services and, according to their website, be part of their Coordinator Hero Rewards program when you coordinate three or more blood drives in a single year.
If you are able to find a local blood bank and/or donation center near you, here are a few things you need to know in order to donate blood safely: eat a health meal before donating, drink an extra 16 oz. of water, wear a shirt that makes it easy for you roll up your sleeves, and maintain a healthy iron level in your diet.
And, of course, in the wake of a senseless tragedy is not the only time one should consider donating blood. Perhaps you have a rare blood type that could save the life of someone in a car crash. Perhaps your home will be the next location of another mass shooting, as horrendous acts of gun violence have become an all-too-common occurrence in the United states. In fact, according to Newsweek, there were 244 mass shootings in the first 240 days of 2017. The need for blood donations will, sadly, always be a necessity.