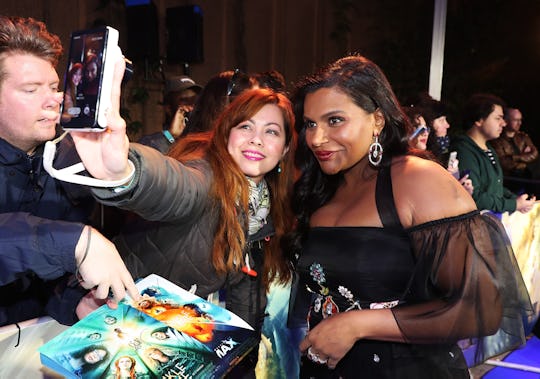 Chris Jackson/Getty Images Entertainment/Getty Images
Here's How You Can Spend A Weekend In NYC With Mindy Kaling & Kate Hudson
If you're in desperate need of a weekend outing, I have good news for you. On the weekend of June 9 and 10, POPSUGAR Play/Ground is taking over PIer 94 in New York City to deliver two full days of fashion, fitness, beauty, living, culture and music. Does that sound perfect to you? Of course it does, so now lets get to the even more exciting news: POPSUGAR Play/Ground's full lineup!
The interactive weekend is going to be star-studded, to say the least. Mindy Kaling, Kate Hudson, Tiffany Haddish, and Yara Shahidi are just a few of the incredible women who are rounding out the two-day festival. Makeup gurus Huda Kattan and Charlotte Tilbury will also be in attendance, as well as the co-founder of The Huffington Post, Arianna Huffington. You'll get serious facetime with all of these amazing females, too, thanks to the panels, workouts, performances and more. So exciting!
This weekend full of fun events is something you and your closest friends aren't going to want to miss, so you're going to need tickets to attend. You can get individual day passes for $70 each, or you can spend $99 for a full weekend pass. Oh, and there's a 15 percent discount available a la the below Instagram. You're welcome!
Play/Ground is going to be quite the experience, with a handful of conversation panels scheduled over the course of two days. Kate Hudson will be present for Redefining the Pursuit of Happiness, while Tiffany Haddish will definitely have us cracking up at The Last Laugh. Speaking of laughs, Mindy Kaling will be hosting the Smart Girls panel on Saturday morning, which is likely to be both funny and inspiring.
The positivity and celebration of women everywhere will only continue from there! Heart Talk with Cleo Wade takes place on Sunday, followed shortly after by Digital Detox by the one and only Arianna Huffington. As for performances, Tinashe will be closing out Saturday's events while AlunaGeorge will wrap up Sunday. Be sure you show up ready to get your groove on!
If talks aren't your thing, pack your yoga bag and prepare for enlightenment. Fitness superstar, Kayla Itsines, is hosting a full workout on both Saturday and Sunday morning. If you're into a more intense fitness regime, Sadie Lincoln will be hosting a Barre3 event on Saturday afternoon. That same day, Simone de la Rue will host one of her famous Body By Simone Workouts.
But, it's not all talks and workouts at Play/Ground. There's going to be an Instagram-worthy bazaar for you to get your shop on!
Below is the full lineup by day and stage below. Hope to see you there!
Saturday June 9, 2018
Main Stage
10:00am – DJ Nikki Pennie *VIP Only*
11:00am – Kayla Itsines Workout
12:15pm – Smart Girls Win With Mindy Kaling
1:15pm – Power Your Happy
Panelists: Kayla Itsines, Katie Stevens (Actress, The Bold Type), Martha Hunt (Model)
2:15pm – The Power of Beauty with Charlotte Tilbury
Moderator: Lisa Sugar
3:00pm – Redefining the Pursuit of Happiness with Kate Hudson
4:00pm – Passion to Action with Yara Shadidi
Moderator: Cori Murray
6:00pm – Tinashe Performance
Small Stage
10:00am – Kayla Itsines Meet-and-Greet *VIP Only*
11:00am – View From the Top
Panelists: Ukwono Ojo (SVP of Covergirl), Rebecca Minkoff (Designer)
Moderator: Dana Avidan Cohn
11:45pm – Fired Up! Keynote with Sarah Robb O'Hagan (Flywheel)
12:30pm – The Female Frontier: Creating Change
Panelists: Carolyn DeWitt (Rock The Vote), Karen Cahn (iFundWomen), Jess Morales Rocketto (National Domestic Workers Alliance)
Moderator: Lindsay Miller
1:45pm – Barre 3 Workout with Sadie Lincoln
3:15pm – Taste of Triumph
Panelists: Eden Grishpan (Eden Eats), Sam Wasser (byChloe)
Moderator: Melissa Ben-Ishay (Baked by Melissa)
4:00pm – Flip The Script: Brought To You By BookSparks
Panelist: Taylor Jenkins Reed (Author), Curtis Sittenfeld (Author), Georgia Clark (Author), Kendare Blake (Author), Sara Shepard (Author), Tomi Adeyemi (Author), Megan Abbot (Author), Camille Perri (Author)
Moderator: Laura Meyers
5:00pm – Fucking Funny Females
Panelists: Michelle Collins (comedian), Sasheer Zamata (comedian)
Sunday June 10, 2018
Main Stage
10:00am – DJ Nikki Pennie *VIP Only*
11:00am – Kayla Itsines Workout
12:00pm – The Last Laugh with Tiffany Haddish
Moderator: Amanda Seales
1:00pm – Beauty Panel with Huda and Mona Kattan (official panel name TDB)
Moderator: Kirbie Johnson
1:45pm – Digital Detox with Arianna Huffington
2:30pm – (Making) Money Moves with Sallie Krawcheck
3:15pm – Best Face Forward with Dr. Barbara Sturm
Moderator: Dana Avidan Cohn
4:00pm – Breaking The Model Mold
Panelist: Iskra Lawrence (model)
Moderator: Lindsay Miller
4:45pm – Keynote with Gabby Bernstein (official session name TDB)
6:10pm – AlunaGeorge Performance
Small Stage
10:00am – Kayla Itsines Meet-and-Greet *VIP Only*
11:00am – Scrolling Your Way To Sucess
Panelists: Ashley Longshore (Artist), Amirah Kassem (Flour Shop)
Moderator: Laura Meyers
11:45pm – Heart Talk with Cleo Wade
1:15pm – Body By Simone Workout with Simone de la Rue
2:45pm – Screen Queens
Panelists: Ashleigh Murray (Actress, Riverdale), Vanessa Morgan (Actress, Riverdale), Candice Patton (Actress, The Flash), Caity Lotz (Actress, Legends Of Tomorrow)
Moderator: Kirbie Johnson
3:30pm – $ave Your$elf with Sallie Krawcheck
4:30pm – MNDFUL Meditation
5:30pm – Wanderlust Yoga