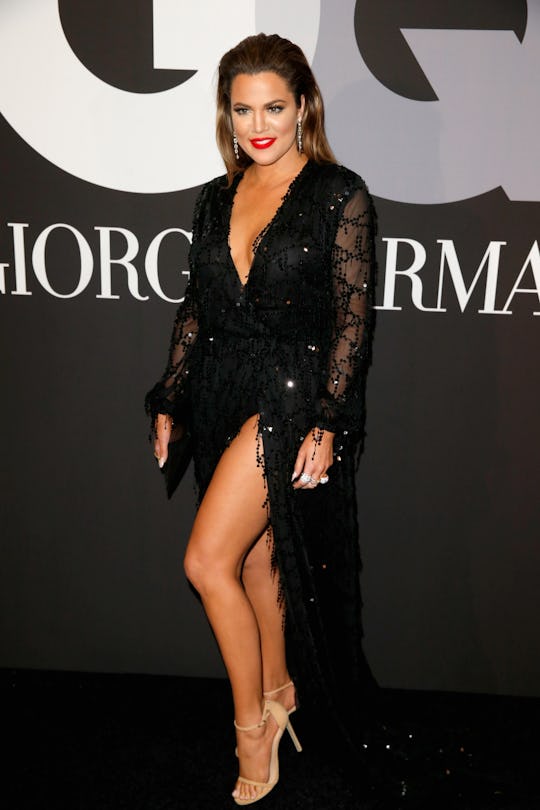 Joe Scarnici/Getty Images Entertainment/Getty Images
Parents Might Want To Try Khloé Kardashian's Brilliant Hack For Getting True To Sleep
Every parent develops a few hacks for getting their babies to cooperate. And just seven weeks after welcoming her first child, Khloé Kardashian has already come up with a hack that "works like a charm" when her baby won't go to sleep (the bane of every parent's existence). Khloe Kardashian's hack for getting True to nap is definitely one that parents of restless babies will want to try.
Kardashian opened up about her nap hack in a recent post on her website. "Every time True takes a nap, I play a sound machine. It's like white noise, so it blocks out any disruptive sounds around the house, like a vacuum or lawn mower," Kardashian wrote, according to press materials sent to Romper. "Also, when she hears the noise, it already kind of puts her in the state that she's going to sleep, so she's relaxed. I know babies are unpredictable and things can change every day, but for now, this has worked like a charm!"
Kardashian also provided fans with the name of the sound machine she uses (or, at least, the one she says she uses). "I'm loving the LectroFan Sound Therapy Machine," Kardashian wrote. "And, it's not just for babies! If you could use a more peaceful sleep, I recommend it."
The LectroFan Sound Therapy Machine retails for $49.99 on both Bed Bath & Beyond's website and on Amazon.
While Kardashian (and surely many other parents) have experienced success with white noise machines, there are a few risks when introducing them to your child's sleepy time routine. The Hospital for Sick Children in Toronto conducted a study on the topic, and found that many white noise machines can reach decibel levels that can damage a child's hearing if they are placed too close to the baby while they sleep, or used over long periods of time. Blake Papsin, co-author of the study and a pediatric otolaryngologist, recommends baby's white noise machines not exceed 50 decibels (which is pretty quiet), that they are not right next to the baby, and that they are turned off after the baby falls asleep, reported TODAY Parent. Papsin told the outlet:
I'm not saying you're a bad parent if you use these machines ... But they aren't regulated at all, so just think about lowering the dose.
Researchers who conducted a study for Pediatrics concluded that infant sleep machines are capable of damaging infant hearing and auditory development. The authors of the study have similar recommendations to Papsin. They suggest placing the machine as far away as possible from the baby, playing the noise at a low volume, and only using it for short bursts of time. Basically, as long as you are not blasting your baby's white noise machine at full volume right next to their crib for hours on end, you (and Kardashian) shouldn't have much to worry about.
It's clear that Kardashian is doing a great job navigating early motherhood. In fact, she took to Snapchat Thursday to share a story with her followers about her newfound love for baby True's poopy times. In a series of Snapchat story videos outfitted with a high-pitched pink deer filter, she said:
One thing about motherhood that I didn't know is that every time baby True goes potty, it is like a party in here ... It's like a poop party. I'm like, "Oh my gosh, Mama, I'm so proud of you. You went potty!" (laughs) The joys of motherhood. And it's the little things that make us happy. 'Cause I know her tummy's doing good and her digestive system is working. I didn't know these things would excite me. My how things have changed!
And with True's 2-month birthday just around the corner, here's hoping that Kardashian chooses to celebrate by sharing more parenting hacks and poop party updates.