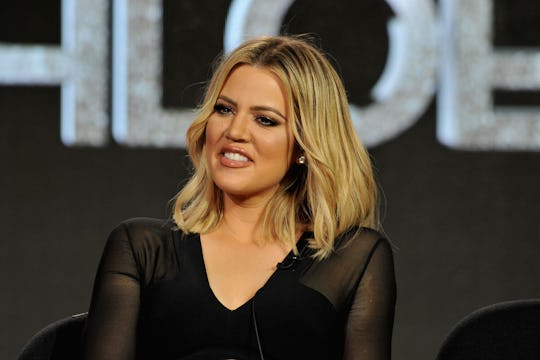 Jerod Harris/Getty Images Entertainment/Getty Images
Here's The Cute Story Behind Baby True Thompson's Nursery Wallpaper
Following Khloé Kardashian's return to Los Angeles on Sunday, she shared additional pics of 2-month-old True Thompson's cute nursery. Although one would think the nursery couldn't get any more adorable, Kardashian surprised fans with a unique take on True's nursery wallpaper. Making matters even sweeter is that the wallpaper perfectly reflects True's personality and looks. As for the print Kardashian chose, some people might be surprised to learn that True's walls are covered in flamingos. Interesting choice, right? While the pick is a bit different, the reasoning behind Kardashian's decision makes perfect sense.
Planning for a baby's arrival can be difficult, especially when you have to account for two nurseries. Unfortunately, Kardashian had to prep for this exact scenario due to Tristan Thompson's career as a basketball player for the Cleveland Cavaliers. The plan all along was for Kardashian to raise True in Cleveland during basketball season, while LA would be the family's home during the off-season. And it looks like the parents stuck to this plan, because True officially has bi-coastal nurseries. Not too shabby for an infant.
In a miraculous turn of events, Kardashian somehow managed to design two separate nurseries before True made her grand entrance on April 12. Kardashian was understandably proud of her work, and she took to her personal app in May to show some sneak peeks of True's nursery. While it wasn't clear which nursery the pics were of, it's obvious True will grow up surrounded by *a lot* of pink tones to achieve Kardashian's desire for a "feminine" looking nursery, according to Us Weekly. While those snaps showed the classic side of True's nursery, Kardashian's latest pics of the room highlight her creative and funky side. Want proof? Look no further than the nursery's flamingo wallpaper.
Of course, it's not uncommon for parents to decorate their children's walls with animal prints. It's less common, however, to see a nursery decked out with flamingos. So, how did Kardashian ultimately decide on this special bird? Interestingly enough, True might have played a low-key role in Kardashian's decision. Kardashian explained, according to a blog post on her app:
The flamingo wallpaper was actually the first thing I saw that I knew I needed to have in my daughter's nursery. I love how elegant the flamingo is. I knew I wanted to do an animal somewhere in her room, but I wanted to do something a little more creative and not so traditional. The funny part is True has the longest skinniest legs like a flamingo! It's so funny how we feel our children's personalities before we even meet them. Maybe True picked the wallpaper in my tummy.
Ha, it's neat how True's looks mirror the flamingos on her nursery wallpaper. I bet a lot of parents out there can relate to Kardashian's story — sometimes things have a sweet way of working out.
But Kardashian isn't the first of her sisters to decorate a nursery with a special symbol — fans might remember that Kylie Jenner incorporated a ton of butterflies into Stormi's room. In fact, Stormi's nursery features a giant pink heart adorned with butterflies, a testament to Jenner's relationship with Travis Scott.
Going forward, it will be interesting to see how Kardashian and Jenner will decorate their daughters' rooms as they get older. As many parents know, it can be a little tricky designing a child's room once they can vocalize their own opinions. Either True will grow up to love the flamingos, or she'll give them the heave-ho as soon as she gets the chance. No matter how True feels about the flamingos, however, there's a good possibility Kardashian will support her vision no matter what. To Kardashian's credit, she seems like the type of mom who will let her child march to the beat of her own drummer.