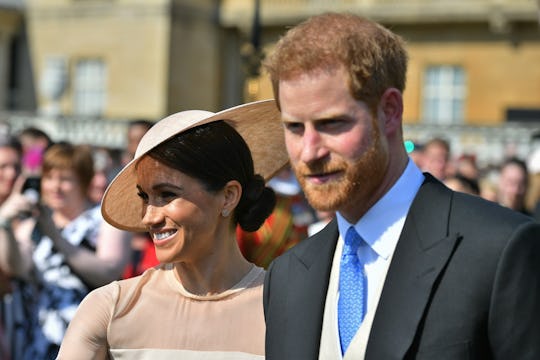 WPA Pool/Getty Images Entertainment/Getty Images
The Estate Prince Harry & Meghan Markle Are Leasing Looks Straight Out Of 'Harry Potter'
The royal wedding may be over, but there's still a lot of planning to be done before the Duke and Duchess of Sussex finally settle in to their new roles. Their official residence is in need of some sprucing up, so Meghan Markle and Prince Harry are leasing a home on the Great Tew Estate in the Cotswolds for the next two years, according to Us Weekly. The pair had previously been living at Nottingham Cottage on the grounds of Kensington Palace, but now that they've made things official, the property is being renovated to suit the new Duchess' taste.
A source told Us that Queen Elizabeth will "most likely give them a house as a wedding present as she did with William and Kate … but whichever one they get will need an update." Of course, royals can't live in an active construction zone like the rest of us normal people, so in the meantime, they'll be staying at a cottage 90 minutes outside of London, called WestfieldLarge, where they also spent the weekend before their wedding. The property is on the same grounds as David and Victoria Beckham's country home, in a charming centuries-old village that's recently turned into a bustling summer destination.
The 4,000-acre Great Tew estate in Cotswold Hills, Oxfordshire traces its roots all the way back to the year 990, when it was owned by Aelfric, Abbot of St. Albans, a former Archbishop of Canterbury. It was privately owned until 1914, when it became part of the public trust and eventually fell into disrepair. It was inherited by Major Eustace Robb in 1962, according to Historic England, who began restoring the early 17th Century manor home and surrounding cottages. After his death in 1985, the property was left to the family of multimillionaire Nick Johnston, who continued to restore the buildings, as well as adding modern improvements. The estate now boasts several short- and long-term rental properties, according to the official website, "ranging from one-bed cottages to large detached farmhouses."
Johnston, a friend of former Prime Minister David Cameron, has recently proposed building a "world-class car museum" and 28 more rental homes on the property in order to raise the £12.7 million needed to restore the original manor, which is currently uninhabitable, according to the Daily Mail. The estate grounds are also home to the Cornbury Music Festival, an eclectic annual summer event that describes itself as such:
A homespun melting pot where music-lovers share pies and a glass of champagne with superstars, toffs, rockers, crooners, Morris dancers, farmers, urbanites, fashionistas, gourmet chefs and little old ladies who make exceptional cakes.
Sounds like the Duke and Duchess are about to get some very noisy neighbors come July.
The area is also home to the Soho Farmhouse, a members-only resort where Markle had her bridal shower in March, according to E! Online. The club features cottages and hotel rooms, several restaurants, horseback riding, a cooking school, and an indoor-outdoor pool. The club holds a special connection to the Duke and Duchess, as they were introduced by club director Markus Anderson, a close friend of Markle, and the two had their first date at the London branch, according to The Cut.
After their two-year stay at the countryside hot spot, the royal couple will go back to Nottingham Cottage, a two-bedroom property that's been Harry's "bachelor pad" (complete with a hammock in the garden) since 2013. The home was previously occupied by the Duke and Duchess of Cambridge, who vacated it when Prince George was a few months old in favor of a 20-room apartment inside the palace proper, according to the Mirror. After the hustle and bustle of Great Tew, the cozy cottage will really seem like home.