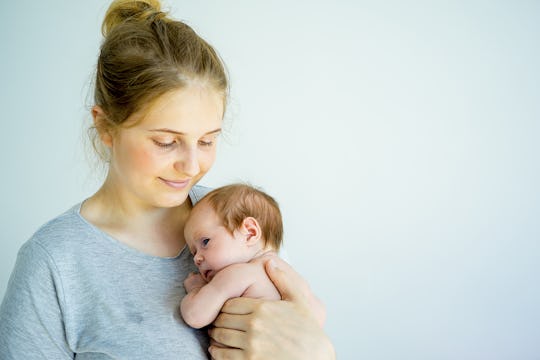 Nichizhenova Elena/Fotolia
Here's The One Gift New Moms *Really* Want (Even If She Doesn't Know It Yet)
After continuous sleepless nights, and spending her days in nonstop spit up and poopy diapers, a new mom just really needs some peace of mind. Around the holidays, new moms are often showered with the same old scented lotions, candles, or clothes that don't fit right. If you are shopping for a new mom, don't you want to get her something that could actually make her life easier? Here is one gift new moms really want, even if they don't know it yet.
I'm sure what a new mom really wants is a free, reliable, live-in nanny (or a clone) to take a load off her day, but since you can't gift her an actual person, you can get her the next best thing — her very own personal voice assistant. The Amazon Echo Dot ($30, Amazon), the All New Echo ($80, Amazon), the Echo Spot ($130, Amazon), and the Echo Show ($150, Amazon) are all different variations of the same Alexa voice-enabled device. Having Alexa in the house is like having a personal assistant, but even better, and with Amazon Prime shipping, you can have it a her doorstep in no time.
For a new mom, an Echo device can come in really handy. She can set timers and alarms for feeding or diaper changes, and she can even set reminders for doctor's appointments by syncing her calendar with Alexa through the app on her phone. This way, she can just ask "Alexa, what do I have scheduled today?" or "Alexa, set a timer for two hours to feed the baby," and Alexa will respond and remind her of whatever she needs.
An Echo can also help with a fussy baby. My sister's twins would get fussy when putting them down for the night, so she would ask Alexa to play them N'Sync songs to quiet them down. There are thousands of songs and types of music available in the Amazon music library, so a mom can just ask Alexa to play a lullaby, classical music, or whatever she thinks her baby will like. Either way, music is a great tool for calming a fussy baby, so she'll definitely appreciate this feature, especially when her hands are full.
Two of the Amazon Echo devices, the Spot and the Show, come with screens and cameras, so they can easily take the place of an expensive baby monitor. A mom can keep the show or spot in the baby's room, and check in on the baby with her phone, and even video call so the baby can see and hear her. This is a great feature to use at night or when mom is away, because she can calm her baby down in an instant.
The voice only Echo devices, the Dot and the Echo, have a great drop in feature, which can allow moms to listen and speak through the device via a phone or another Echo device. So a new mom, who has her hands full caring for her newborn, can just ask Alexa to place a phone call to anyone in her contacts without lifting a finger.
When I first got my Echo, I wasn't sure what I would use it for, other than getting the news or weather. But it turned out to be more useful than I could ever imagine. Because developers continuously update and create software for the Echo devices, Alexa just keeps getting smarter, giving you more usable options everyday. With a little added smart home technology, an Echo device can control and dim lights, control the thermostat, or turn on or off any device that can be plugged into a smart outlet.
In my house I use the Echo to control everything, and my kids use it, too. They ask Alexa for help with homework, to set timers, and use the drop in feature as an intercom. When I am away, my kids just say "Alexa, call mom" and my cell phone rings wherever I am. My husband recently went on a trip out of the country, and he was able to drop in to the kids room to say good night from halfway across the world.
An Echo device is a great gift option for a new mom, and until she has it, she won't know what she's missing. The best part is that as her baby gets older, she will find more ways to use the Echo, making it a gift that keeps giving.
Check out Romper's new video series, Romper's Doula Diaries:
Watch full episodes of Romper's Doula Diaries on Facebook Watch.