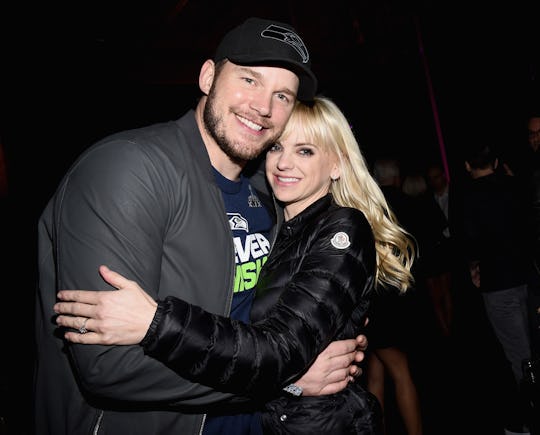 Michael Buckner/Getty Images Entertainment/Getty Images
Here's The Real Reason For Chris Pratt & Anna Faris' Split — REPORT
On Sunday, actors Anna Faris and Chris Pratt announced that they are separating. This comes after eight years of marriage, and the birth of one son, Jack, who is 4 years old. And whether you were a huge fan and now think love is totally dead, or don't really care at all, it's always big news in Hollywood and the entertainment world whenever a seemingly stable couple decides to call it quits. In the wake of the news, people have been theorizing about the reason(s) for the split, and some have suggested that a third party may have been involved — with some suggesting that fellow actress Jennifer Lawrence came between them. But the real reason Chris Pratt and Anna Faris are separating has nothing to do with Jennifer Lawrence, so it'd be great if everyone stopped suggesting that that's the case.
According to Elle, there was no third person involved that led to Faris and Pratt splitting up. Based on the word of sources in a TMZ article, the actors are separating because they each have different views of what a family should be. Faris wants a more traditional family, with a home base in Los Angeles, California, but Pratt reportedly needs to travel more with his career at a high point — leaving him to have to balance between family and career in a way that wasn't compatible with Faris' vision.
The actors announced their breakup in a joint statement on social media, that was also confirmed by Pratt's publicist, according to ABC News. According to Entertainment Weekly, in a post to his Facebook page, Pratt's statement read:
Anna and I are sad to announce we are legally separating. We tried hard for a long time, and we're really disappointed. Our son has two parents who love him very much and for his sake we want to keep this situation as private as possible moving forward. We still have love for each other, will always cherish our time together and continue to have the deepest respect for one another.
Chris Pratt and Anna Faris
And that statement seems to back up what sources are saying — that the two still care for one another, but that other circumstances have led to their separation.
But unfortunately, rumors always seem to fly whenever a high-profile breakup happens in Hollywood, and Pratt and Faris' separation is no different. According to Hindustan Times, this time, those rumors have targeted actress Jennifer Lawrence.
According to Hindustan Times, some fans are "spewing venom at Jennifer Lawrence for 'breaking up Chris and Anna's marriage.'" The idea that she could have somehow come between Faris and Pratt stems from the fact that Lawrence and Pratt worked together on the 2016 romantic sci-fi film, Passengers.
But according to Elle, TMZ, and other sources, that's just not the case. In fact, a lot of the reasons given by sources for why Faris and Pratt broke up sound incredibly normal, and not at all salacious. In fact, their normalcy is what has made it so heartbreaking for many fans; we want to believe celebrity couples we love are immune to the average issues that cause a relationship to end, but they're not.
TMZ reported that Pratt doesn't want more kids — at least not in the foreseeable future while he has to focus on his career — but Faris does. And with Pratt's movie star status rising high right now, it sounds like they just want different things out of their lives and for their family's future at the moment.
But what every source seemed to emphasize is the fact that Faris and Pratt are devoted to the well-being of their son, Jack. They've clearly been committed parents to him in the past, and it sounds like they're determined to co-parent him to the best of their ability, even in the midst of their breakup.
Ultimately, if these sources are correct, Faris and Pratt just had different ideas of what they wanted for their marriage and family going forward. Their separation had nothing to do with Lawrence, or any other actor, actress, or any individual coming between them. Also, even if a third party had had something to do with the breakup, which looks entirely unfounded at this point, it would not only be the fault of that third party. If the rumors had actually been true and Pratt was seeing someone else, he would also be at fault — not just the third party he would hypothetically be involved with.
So the "fans" who are blaming Lawrence for the split really need to put a lid on it, and let Pratt and Faris move through what is probably a very difficult time — without having to deal with anyone adding an unnecessary layer of gossip to the situation.