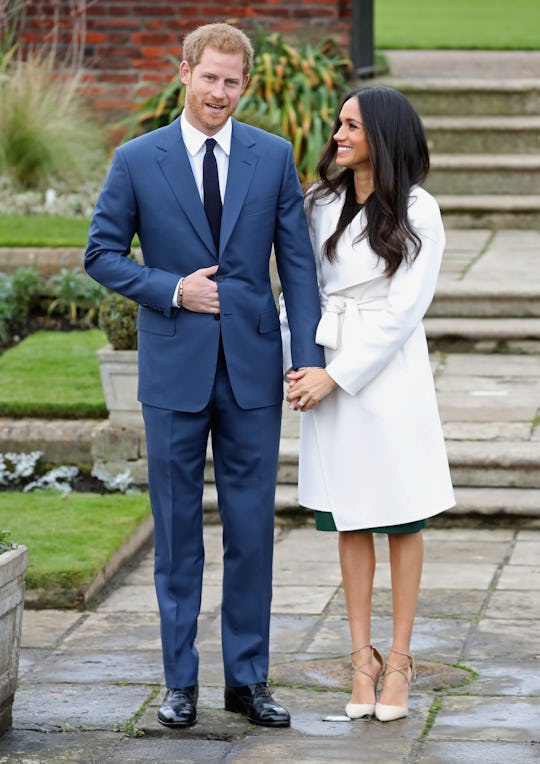 Chris Jackson/Getty Images Entertainment/Getty Images
Here's The Royal Wedding Schedule, Because *It's Almost Here*
In exactly one month, Meghan Markle and Prince Harry will tie the knot in front of their family, friends, and, oh yeah, the rest of the world. Ever since announcing their engagement, their fans have anxiously awaited more details about the royal wedding — and with it finally just around the corner, now seems like a good time to gather all the pertinent details. Here's everything publicly known about the royal wedding schedule, because you know you're going to wind up tuning in.
To review the wedding schedule, one must first travel back in time to the day Markle and Prince Harry announced that they were engaged, on Nov. 27, 2017. "The wedding will take place in Spring 2018," read the Clarence House's announcement on Twitter. "Further details about the wedding day will be announced in due course."
And as promised, further details were announced the following day. On Nov. 28, Kensington Palace tweeted that the wedding would take place at St. George's Chapel, Windsor Castle, in May 2018.
On Feb. 12, the couple's wedding date and initial details were revealed. Kensington Palace shared a thread on Twitter filled with information about Markle and Prince Harry's big day, revealing that the wedding was scheduled for Saturday, May 19.
The royal wedding will commence at 12:00 p.m. local time at St George's Chapel, according to Kensington Palace's Twitter. If you're in the United States and were hoping to watch the ceremony live, you may have to sacrifice some sleep — 12:00 p.m. in London translates to 7 a.m. Eastern Time (on a Saturday...), and 4 a.m. Pacific Time. The service will be conducted by The Dean of Windsor, and The Archbishop of Canterbury will officiate.
The ceremony appears to be scheduled to take less than an hour, as at 1:00 p.m., the newly-married couple will begin a Carriage Procession along the Long Walk, ending at Windsor Castle. "They hope this short journey will provide an opportunity for more people to come together around Windsor and to enjoy the atmosphere of this special day," tweeted Kensington Palace.
And then, because one party certainly wouldn't be enough for such a fabulous couple, there will be two receptions. The first will be back at St. George's Hall for guests from the congregation. Then, that evening, Prince Harry's father Prince Charles is throwing a more intimate reception for the couple's close family and friends. Sounds like a pretty good day.
If you're planning on heading to London and trying to sneak a peek of Markle and Prince Harry on their wedding day, there will be plenty going on to keep you busy, according to information shared by The Royal Borough of Windsor & Maidenhead. Firstly, there will be extra trains running, as well as a 6,000-space parking lot reserved for those driving to observe the festivities. The Long Walk will be outfitted with screens displaying live footage of the wedding, and in case that's not enough entertainment for you, there will be live performances from local groups, food stalls, and ceremonial banners decorating the procession route.
It's also worth noting that the date of the royal wedding is breaking tradition by being on a Saturday. Kate Middleton and Prince William got married on a Friday, the Queen and Prince Philip got married on a Thursday, and Prince Charles and Diana Spencer wed on a Wednesday. Those wedding dates were all declared bank holidays across England, but because Markle and Prince Harry's wedding is on a Saturday, there was no need to declare a bank holiday.
So whether or not you're planning to set your alarm to go off at the ripe hour of 7 a.m. or 4 a.m. on May 19, you can rest assured that you'll wake up to plenty of royal wedding buzz on social media.