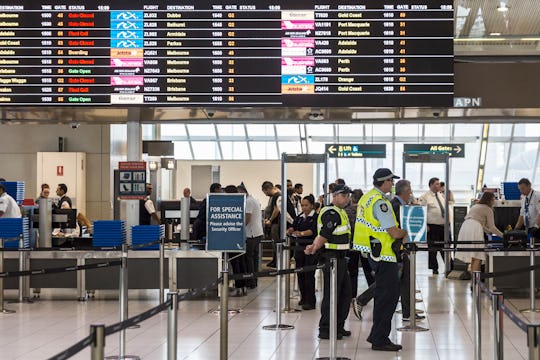 Brook Mitchell/Getty Images News/Getty Images
This Photo Of An Airport Employee Punching A Man With A Baby Is Horrifying
Flight delays and demanding customers are definitely hard to deal with, and nobody wants to be stuck with appeasing a group of people whose flight has been delayed for half a day — but one airport employee's reaction to a passenger was entirely out of line this past weekend. A viral photo of an airport employee punching a man with a baby has been making the rounds on Twitter this week, and the photo is horrifying in more than one way.
Twitter user Arabella Arkwright shared a photo of the incident on Saturday, and the story emerged soon afterwards. According to CNN, budget airline easyJet had a flight scheduled from Nice, France, to London, England, on Saturday, and the flight was delayed a total of 11 hours. Arkwright told The Guardian that one mother was complaining to airport staff about the lack of chairs and baby food in the airport. According to The Guardian, things escalated verbally until an airport employee allegedly whacked a phone out of her husband's hand. The husband, who was holding their baby, then reacted physically, and the employee reportedly punched him in the face. The Nice airport did not immediately respond to Romper's request for comment.
easyJet also hasn't responded to Romper's request for comment. However, in a statement, easyJet told The Guardian:
EasyJet is very concerned to see this picture and can confirm the person in the photo is not an easyJet member of staff and does not work for easyJet's ground handling agents in Nice. We are urgently taking this up with Nice airport and their special assistance provider Samsic, who we understand the person photographed works for.
Whoever the employee is, however, the incident is incredibly concerning. I think pretty much anyone can commiserate with the airline employee who, in 2010, quit his job after an argument with a passenger by grabbing a beer from the beverage cart and sliding down the emergency exit chute. However, a dramatic exit is entirely different from assault.
On top of that, this was an act of violence against a couple that was simply looking to provide for a tiny human. A wait time of 11 hours is hard on anyone, but it's even worse for the parents of babies. No one heading on a short flight packs enough to feed a baby for half a day, and young children need quiet places to sleep and be changed. Complaining about a lack of seats and food was, in this case, entirely reasonable. Instead of receiving solutions, however, parents simply trying to provide for their baby were met with violence.
After the passenger was punched, he and the airport employee were reportedly taken away by security guards, according to The Washington Post. When he reappeared on the flight, other passengers applauded him.
With social media, it's now nearly impossible for companies to escape criticism for their handling of incidents with customers. Hopefully the backlash will be a lesson to all companies to hold staff responsible — and be mindful of the needs of customers aboard their flights, whether we're talking about providing more frequent updates or supplying baby food.