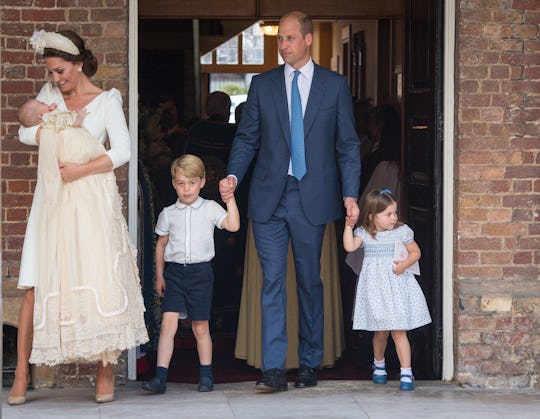 WPA Pool/Getty Images Entertainment/Getty Images
Prince Louis' Christening Party Featured A Tier Of Kate & William's Wedding Cake
Prince Louis was christened on Monday, July 9, at The Chapel Royal, St James' Palace. The christening was a big affair, to say the least, and every last detail of the special day was planned out months in advance. Want proof? Look no further than Kensington Palace's play-by-play of the day, including Prince William, Duke of Cambridge and Catherine, Duchess of Cambridge's post-christening celebration. Not only did Kensington Palace reveal the location of the party, but it also mentioned the interesting fact that Kate and William's guests will feast on a tier of their 2011 wedding cake. If this detail seems odd to you, there's a good chance you'll want to know the reason why christening guests ate Kate and William's wedding cake in honor of Prince Louis' special day. As it turns out, the practice is a family tradition.
It wouldn't be a royal event without a tea party, right? Shortly before Prince Louis was christened by Archbishop of Canterbury, the Most Reverend Justin Welby, on Monday, July 9, Kensington Palace revealed a "private tea" would follow the christening at Clarence House. As some royal aficionados already know, Clarence House is the "official London residence" of Prince Charles, Prince Of Wales and Camilla, Duchess of Cornwall.
"Following the service, The Duke and Duchess of Cambridge will give a private tea at Clarence House," the official announcement read, according to the royal family's official website. "Guests will be served slices of christening cake, which is a tier taken from The Duke and Duchess of Cambridge's wedding cake."
Oh, and if you're worried that there won't be enough wedding cake to feed the christening guests, rest assured there is plenty of deliciousness to go around. The cake, according to the royal family's website, was made up of "17 individual fruit cakes," after all:
The Duke and Duchess of Cambridge's wedding cake, designed by Fiona Cairns, was made from 17 individual fruit cakes and had eight tiers. The cake was decorated with cream and white icing using the Joseph Lambeth technique. There were up to 900 individually iced flowers and leaves of 17 different varieties decorated on the cake. A garland design around the middle of the cake matched the architectural garlands decorated around the top of the Picture Gallery in Buckingham Palace, the room in which the cake was displayed during the wedding.
Wow, I can't even begin to imagine the struggle of icing 900 individual flowers. Sheesh.
So, why did Kate and William decide to feature their wedding cake at Prince Louis' christening party? It's not like the couple can't afford a fresh cake or some high-end cupcakes.
In a sweet twist (no pun intended), Kate and William served their wedding cake at both Princess Charlotte and Prince George's respective christenings, according to Harper's Bazaar. Although it's not uncommon for couples to serve their wedding cake at their first child's christening, it's less common to see the tradition play out for siblings. It's pretty cute Kate and William decided to keep the tradition going for Prince Louis. One can assume the parents decided to serve the wedding cake all three times in an effort to bond the siblings together. Too adorable.
As for how safe it is to serve a 7-year-old fruitcake, rest assured there's no real risks. Apparently, a well-preserved fruitcake can last up to 20 years. "The luxurious fruitcake, studded with dried fruits and steeped in rum or brandy, is a present-day descendant," according to Forbes. "The liquor retards mold, and there are cases of well-tinned and brandied cakes lasting 20 years."
The good news is Kate and William's cake was soaked in *a lot* of brandy. "Each layer was wrapped in brandy-soaked cheesecloth before being set aside to age for a few weeks, deepening the flavors and achieving the classic taste of fruitcake," according to The Spruce. Sounds delicious.
Well, here's to Kate and William's guests feasting on an almost decade old fruitcake for the sake of tradition and love. It's nice to know the couple is putting the cake's reported $80,000 price tag to good use.