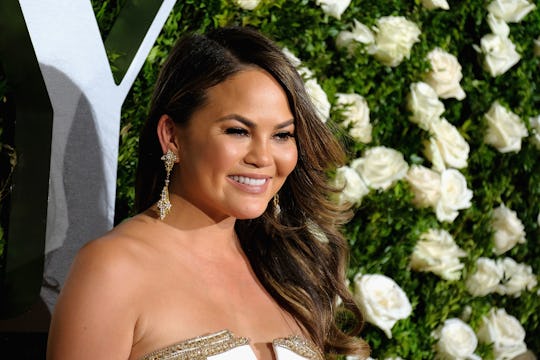 Jemal Countess/Getty Images Entertainment/Getty Images
Here's The Tweet That Caused Trump To Block Chrissy Teigen
After several years of trolling President Donald Trump online, model Chrissy Teigen finally joined the ranks of Stephen King, Bess Kalb, and Rosie O'Donnell this week: Trump blocked Teigen from viewing and responding to his account. So what caused the president to finally bar Teigen from interacting with his updates? Here's the tweet that caused Trump to block Chrissy Teigen on Twitter (spoiler alert: it's pretty great).
It all started on Sunday, when Trump took to Twitter to air his grievances about Republicans who would not support him. "It's very sad that Republicans, even some that were carried over the line on my back, do very little to protect their President," he tweeted.
Teigen responded with a simple message that same day. "Lolllllll no one likes you," she wrote.
By Tuesday, she realized she'd been blocked by the president, sharing a screenshot of her now-blocked view of his account and writing, "After 9 years of hating Donald J Trump, telling him 'lol no one likes you' was the straw."
Teigen wasn't exaggerating, either: she's been clapping back at Trump for years now, with one of her tweets in 2011 reading, "Just realized I am at a Starbucks inside a trump building. I knew it smelled psychotic and racist here."
Teigen isn't the only Twitter user who has been blocked by the president. Earlier this month, the Knight First Amendment Institute, a free speech advocacy group at Columbia University, filed a lawsuit against Trump, claiming that his blocking of seven people's accounts on Twitter was a violation of their First Amendment rights.
"The First Amendment applies to this digital forum in the same way it applies to town halls and open school board meetings," Jameel Jaffer, executive director of the Knight First Amendment Institute, told the BBC earlier this month. "The White House acts unlawfully when it excludes people from this forum simply because they've disagreed with the president."
Romper reached out to the White House regarding the lawsuit, but did not hear back immediately. However, White House deputy press secretary Sarah Huckabee Sanders recently told Newsweek, "We don't comment on ongoing litigation."
Teigen didn't seem too upset about her sudden lack of access to the president's account, however — and many Twitter users found the situation funny. Some offered congratulations, while others tweeted "Welcome to the club!" Others wrote that she was now "officially an American hero."
No matter how you take the news, one thing is certain: with or without Twitter access, Teigen is probably far from done when it comes to trolling Trump.