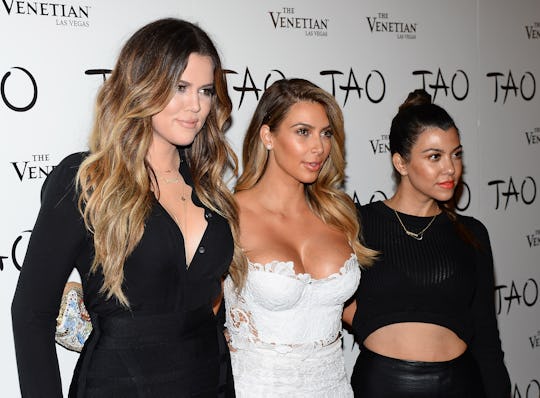 Ethan Miller/Getty Images Entertainment/Getty Images
Here's The Unwanted Baby Advice Khloé Kardashian Is Getting From Her Sisters
Every mom-to-be out there knows how it goes: once you get pregnant, the people in your life suddenly become fountains of unwanted advice, with friends and family letting you know — whether you want to hear it or not — what products you should steer clear from, what foods you shouldn't eat, and what activities you should avoid. That whole routine is no different for a Keeping Up with the Kardashians star, either: on Thursday night, Khloé Kardashian revealed the unwanted baby advice she's been receiving from her sisters over the past few months, and her rant to Jimmy Kimmel should be relatable for any expecting parent out there.
"Kourtney gives a lot of advice," Khloé told Jimmy Kimmel Live! on Thursday, according to People. "I think it's so sweet but I don't want to do some of that stuff."
She continued:
You can never have a plastic toy, ever! If someone buys blocks, I'm allowed to have blocks! Let me experience things. It's either her way or no way. It's not what you say, it's how you say it. We've been fighting a lot lately. We never fight.
Ah, family. Can't live with 'em, can't live without 'em. (Except when you're expecting, and you could probably live just fine without them and their unwanted advice.)
But plastic toys weren't the only issue the Kardashian sisters disagreed on when it came to parenting, apparently. Khloé continued:
[Kourtney] got pissed because I wanted to put a TV in the nursery. I haven't even decorated the nursery yet, the whole thing I wanted was a TV so far. And she [said] I'm the worst person for ever wanting a TV. And when you're breastfeeding or whatever, I need a TV. … She thinks she's better than I because she doesn't watch TV but I like TV shows.
Both Kourtney and Kim have several kids of their own — Kourtney is a mom to 7-year-old Mason, 5-year-old Penelope, and 2-year-old Reign, while Kim is raising 4-year-old North and 2-year-old Saint. Kourtney, however, was definitely the sister to get singled out by Khloé for giving just a little too much baby advice.
"[I got] a lot [of advice from my sisters]. Too much," Khloé told ET on Thursday. She continued:
I've gotten to the point... I'm like, 'OK, shut the f— up and take your own advice.' Like, I love Kourtney, but... I'm going to figure it all out, I promise you. We're all going to learn.
Khloé isn't getting unsolicited advice solely from her sisters, either, of course. The Revenge Body star has gotten a fair share of unwanted feedback from followers on social media, who have felt the need to weigh in on her continued workouts during her pregnancy. Khloé was quick to clap back at critics, however, and tweeted in December:
MY doctor and I communicate and my workouts are cleared and highly recommended. Thanks kiddos! Don't make me stop sharing shit.
Even for women who aren't famous and receiving millions of likes on their baby bump pictures, unsolicited advice from strangers can rate pretty high on the annoyance scale during pregnancy. For people in the limelight, like Khloé, "concern-trolling" from strangers can start to border on ridiculous — so good on her for making her boundaries clear and sticking to them.
Whether it's with friends, family, or the 71 million followers she has on Instagram, Khloé's made it pretty clear that she's planning on parenting her own way — and fans can't wait to see exactly what that entails. Here's to hoping Khloé remains just as open when it comes to sharing her motherhood experiences as she has been during her pregnancy.
Check out Romper's new video series, Romper's Doula Diaries:
Watch full episodes of Romper's Doula Diaries on Facebook Watch.