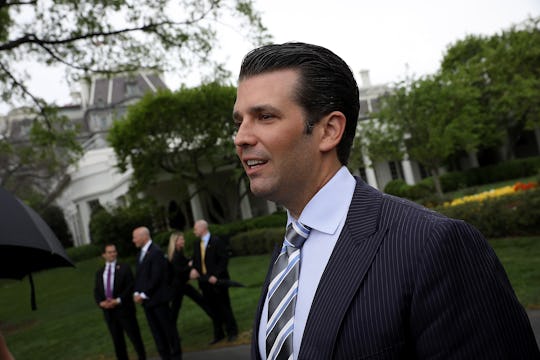 Win McNamee/Getty Images News/Getty Images
Here's What Donald Jr's Tweets Actually Show
On Monday, The New York Times reported that Donald Trump, Jr. not only knew he would meet with a Russian lawyer connected to the Kremlin during his father's presidential campaign, but also knew what the subject of the meeting was to be: alleged damaging information about Trump's opponent, Hillary Clinton, obtained by the Russians. Not only did Trump Jr. know about the meeting and who would be present, but The Times had the email to prove it. On Tuesday, Trump Jr. tweeted the entire email chain regarding the June 2016 meeting, and here's what Donald Jr.'s tweets of the Russia emails actually show.
In addition to the four pages of emails Trump Jr. posted to Twitter, he also released a brief statement on his decision to release the entire email chain. Trump Jr.'s statement provided context for each email in the chain between himself and Rob Goldstone, a British publicist. Goldstone arranged the meeting between Trump Jr. and Natalia Veselnitskaya, a Russian lawyer with alleged connections to the Kremlin.
I may not be a lawyer, but even Trump Jr.'s attempt at transparency does not look good right now. On Monday, Trump Jr. retained an attorney, Alan Futerfas, following the bombshell onslaught of stories from The Times about the meeting between Trump Jr. and Russian attorney Natalia Veselnitskaya during his father's 2016 campaign. Representatives from Futerfas' law office did not immediately return Romper's request for comment.
Here are the detailed images of each document uploaded by Trump Jr. First, his statement regarding the email chain.
And then the four pages of the email chain itself; they have been arranged in chronological order, to be read from the bottom up of each page.
Perhaps what appears to be most damaging for Trump's oldest son is that the emails show Trump Jr.'s clear understanding that incriminating information about Clinton was the offer on the table for this particular meeting. Goldstone wrote the following email to Trump Jr. on June 3, 2016, found on page four, with a tantalizing proposition for a meeting:
Emin just called and asked me to contact you with something very interesting.
The Crown prosecutor of Russia met with his father Aras this morning and in their meeting offered to provide the Trump campaign with some official documents and information that would incriminate Hillary and her dealings with Russia and would be very useful to your father.
This is obviously very high level and sensitive information but is part of Russia and its government's support for Mr. Trump — helped along by Aras and Emin.
Trump Jr.'s response, made just 20 minutes later from his iPhone, included a particularly concerning phrase: "...if it's what you say I love it..." before beginning a long back-and-forth trying to arrange the meeting. The meeting ultimately took place just six days after the beginning of their email exchange, at Trump Tower in Manhattan. From the Trump campaign, it included Trump Jr., then-Trump campaign adviser and brother-in-law Jared Kushner, and Paul Manafort, Trump's campaign chair for a short stint.
Despite lots of logistical wrangling and redacted email addresses, the entire email chain does seem to show that Trump Jr. knew Russian-obtained information about Clinton was being offered to his father's campaign and that he wanted to see what Goldstone's contact had to say — so much so that he decided to bring along Kushner and Manafort.
In a statement to The Times on Sunday, Trump Jr. even admitted to the fact that he was aware that damaging information about Clinton was the impetus for him to take the meeting. However, in his statement, Trump Jr. claims that the information Veselnitskaya had either wasn't good enough or what the campaign was looking for.
Trump Jr. said, "No details or supporting information was provided or even offered. It quickly became clear that she had no meaningful information." He noted that their conversation turned to the Magnitsky Act. "It became clear to me that this was the true agenda all along and that the claims of potentially helpful information were a pretext for the meeting," Trump Jr. continued. This was Trump's second statement about The Times story in as many days.
With Trump Jr. acting on behalf of his father's campaign, these emails do not look good. What Trump Jr.'s tweets reveal is that the emails absolutely could be used as evidence of collusion between the Trump campaign and Russia. Even if Trump Jr. didn't think the information on Clinton was worthwhile, that he agreed to take the meeting at all on the very basis that the information might have existed? Yeah — that's still collusion. Oh, to be a microwave in the White House right now.