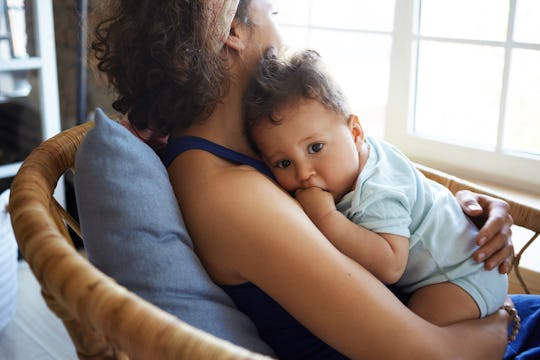 Here's What Experts Want Moms To Know About Cold & Flu Season
Cold and flu season is never fun, but add an infant into the mix and it can feel like you officially have a situation on your hands while you're trying to protect them from non-stop germ invasions. Especially if you're a first-time mom navigating through your baby's first season of potential sneezes, runny noses, and fevers, you may be overwhelmed at the idea of how you can best care for your little one before, during, and after the dreaded cold and flu season months.
Knowing that as moms we all want nothing but the best for our kids, Romper teamed up with Abbott, the makers of Similac infant formula, to ask their experts what advice they have for moms of infants during cold and flu season. As it turns out, there are things you can do even at the beginning of your baby's life to give them the boost they need to grow healthy and strong — and the solutions are even easier than you may realize. Read on to learn a few pieces of expert-backed intel, then move through this upcoming cold and flu season with the confidence you need to keep yourself and your baby happy, healthy, and (hopefully!) cold and flu-free.