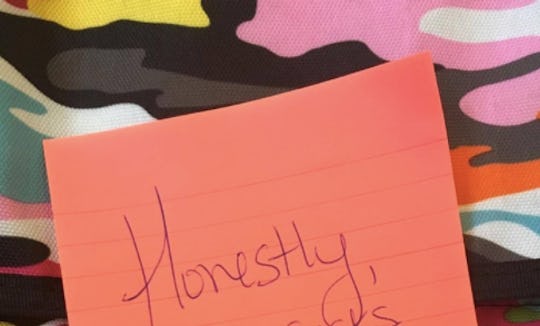 Here's What It Would Actually Look Like If Parents Wrote Honest Lunchbox Notes
When my daughter started kindergarten I was on maternity leave with my son. Surprisingly, I had the time and patience to pack intricate and nutritional lunches. I purchased one of those super cool bento-type lunch boxes and filled it with protein, carbs, vegetables, fruit, and dairy. I was the rockstar mom; the lunchbox queen. When my ungrateful child kept bringing home hardly eaten lunches, however, I became aggravated. How dare she fail to appreciate my hard work! How dare she disregard my awesomeness! If parents wrote honest lunchbox notes I would have used every ounce of my passive-aggressiveness to tell her exactly how I felt. Sadly, however, parents writing honest lunchbox notes isn't a thing (and I never really wrote any notes, not even nice ones, anyway).
I've seen the lunchbox notes templates on the internet, the "100 Lunchbox Notes To Make Your Kid Smile" articles, and the resentment from the parents who think lunchbox notes are a ridiculous trend. Honestly, I can hardly remember to buy deli meat every week, so I can't possibly put any more focus towards my kid's lunches than I already do. Well, maybe I can, but I definitely don't want to. My kid either gets money or a lunch, but there are no cute notes, no sweet little nothings written on whimsical stationary, and no butterflies or rainbows drawn on post-its. Nothing.
I love my children (for the purposes of the internet, I still feel the need to say that). I love them more every day, but I hate the pressure I feel to be perfect. And while I'm usually able to brush off and ignore "what other moms are doing," sometimes I want to be that mom who writes cutesy little notes to her darling children. I'm just not that mom, though. I tried, but it was just pretense, a facade, and an attempt to be someone I'm not for the sake of appearances. Well, now that that's over, welcome to my honest lunchbox notes: