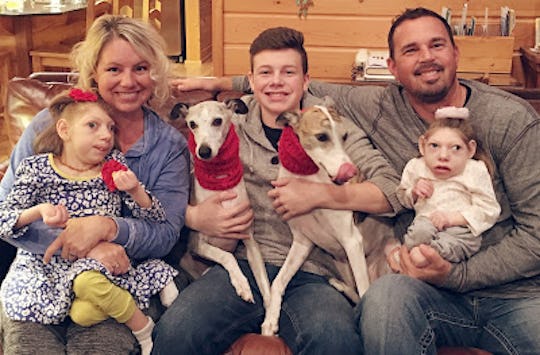 Courtesy of Gwen Hartley
Here's What Microcephaly Is Like, According To One Mom's Story
Meet the Hartleys. There's Gwen and Scott and their kids, Cal, 17, Claire, 14, and Lola, 10, and two Whippets, Romeo and Cash. Until recently, Gwen's been quietly blogging about her Claire and Lola's special needs. Both were born with microcephaly, the birth defect spreading like wildfire across South America along with the Zika virus. She wants people to know her daughters are beautiful blessings and that they don't need to feel sorry for her or her family. Hartley spoke with Romper to share just what it's like to have children with microcephaly.
With fears over the Zika virus causing countries like Colombia and Brazil to advise women to delay pregnancy until they get the virus under control, all of the sudden the Hartleys find themselves the object of people's growing curiosity — and mounting fears — about microcephaly, which causes babies to be born with tiny brains. And although she's always been a tough-as-nails and funny-as-hell advocate for her two precious daughters, she told the Washington Post she finds the new attention both scary and "extremely painful."
In an email interview with Romper, Gwen tells Romper that, though her children are amazing, she feels for people who are going to raise children with microcephaly, because it is difficult:
I am grateful that microcephaly has come into light due to the Zika virus, I just wish it had been under different circumstances. My heart aches for the newly diagnosed children and families. Even though I know that this child will bring immeasurable joy to their family, it is still really difficult — especially early on. I really struggled with our first affected child for a good year. There were many beautiful moments scattered between the moments of fear and worry, but it was just a very emotional time for all of us.
For the Hartley family, microcephaly was a genetic disorder they never saw coming. When Claire was born, they were told she wouldn't live more than a year. Same with Lola. But, despite beating the life expectancy odds by a mile, the two have pretty severe disabilities including dwarfism, spastic quadriplegia, cerebral palsy and epilepsy, which Gwen and her "team" treat with all sorts of physical therapies, essential oils, homeopathics and chiropractic care. You can tell by reading Gwen's blog "The Hartley Hooligans" that she's meticulous about loving and caring for her babies and maintains a pretty incredible sense of humor at the same time.
Her life is beautiful and fun, with a bit of sadness here and there. Pretty much like every other family you know.
She hilariously refers to herself as a "real-life, damn near Snow F'ing White (super pale and gifted at dwarf wrangling)," on the blog. Her humor must be the best way to cope with the longing for what she wants most of all: as much time as possible with her girls and to do everything she can to make the most of their lives, she says:
I would not have chosen for my daughters to be affected by microcephaly. But the fact is that my girls DO have microcephaly, it is their divine plan (perhaps even partly mine, to be their mother in this life), this life is unfolding as it was supposed to for all of us, and we are gonna optimize the heck out of their lives the best we can.
But in the meantime, she blogs hilariously about "Feta," the tiny rubber chicken that's the only thing Lola has ever voluntarily grasped in her little fists. She shares her dreams, like a recent one she had where Lola could walk. And she talks with raw honesty about her frustrations and struggles — something moms facing a microcephaly diagnosis would definitely find healing and helpful.
"I would tell the mothers who have newly diagnosed babies that they can totally do this," Hartley says. "They will find strength within them that they never knew they had."
And there's no question Gwen has more strength than dozens of people put together.
So, moms curious about what it's like to raise a baby with microcephaly should take a look at the Hartleys and the amazing Gwen. Because they make it look beautiful. And if you ever happen to bump into them at the grocery store, just know they don't need you to feel sad for them. Because they're going to be just fine.