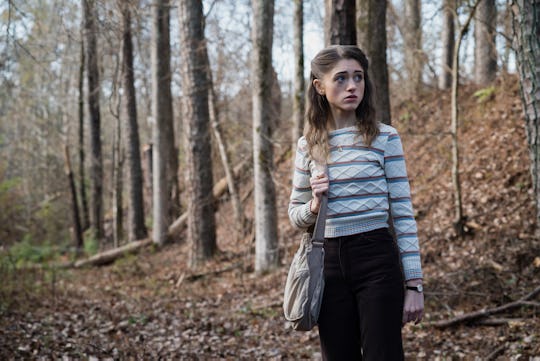 Curtis Baker/Netflix
Nancy From 'Stranger Things' Has A Very Different Look IRL
The breakout stars of Stranger Things Season 1 were really the child actors, but that doesn't mean the teenagers and adults were boring to watch. On the contrary, Barb became an online sensation despite her small role. What about Barb's best friend, Nancy? Nancy, in her own right, had a lot of the same struggles that teenage girls have. Seeing as she had a classic 1980s wardrobe, you may be curious to know what Nancy from Stranger Things looks like IRL.
Nancy, who is played by Natalia Dyer, is a high school student in 1983 at the start of the show. She tries to be one of the popular kids and starts dating rumored-womanizer Steve. Most of her storyline the first season has to do with how she handles the disappearance of her best friend, Barb. While Barb had an unfortunate end, Nancy had a hand in saving her brother Mike's best friend, Will, from the Upside Down.
During an interview with Tyranny of Style, Stranger Things costume designer Kimberly Adams said that classic high school aesthetic was an inspiration in dressing Nancy. "Everyone has experienced the high school classes and it was important to capture those variations in characters," she explained. "I took some inspiration from my high school years but in the context of a Midwest girl as opposed to West Coast girl that I was." Adams also considered Nancy's family life and personality when creating her look as well: "Her family is upper middle class, she is smart and sweet and feminine and her closet needed to reflect that."
As for the actress herself, Dyer really embraced her wardrobe and how it played into Nancy's story. In fact, during an interview with Glamour, she revealed how much she loved Nancy's clothes. "That era has such a whimsy to it, and it was so fun to play around with," she said. "Our costume department was great and very thorough and very precise about the time period. It all felt very real."
In real life, Dyer is a student at New York University and loves reading and drinking tea. Her style is less preppy than Nancy's in real life. Natalia Dyer told Coveteur that her normal style is simple; she loves to rock jeans and a T-shirt, paired with tennis shoes. "It is fun to do things like this photo shoot and red carpet events, where you feel so glamorous and you feel so girly and that's nice," she said. "But yeah, I have mostly t-shirts in my closet."
Another way Dyer differs from Nancy (at least for now)? Her dating choice: in real life, Dyer is rumored to be dating Charlie Heaton, who plays Jonathan on Stranger Things, whereas Nancy is currently in a relationship with Steve. Dyer and Heaton have been spotted holding hands in New York City, but neither have confirmed if they're actually dating or not. One related Reddit theory for Stranger Things 2 comes from user Mythic-lobster: that Nancy will dump Steve and start going out with Jonathan.
Anything's possible at this point, but seeing as Steve was promoted from recurring to main character this season, I'm not entirely convinced that Steve and Nancy will part ways. It seems that if nothing else, Dyer and Adams made a conscious effort to flesh out Nancy's character as much as possible, and her clothes played a role in that.
Viewers won't know what happens with Nancy (or her love interests) until they make their way through the second season of Stranger Things, which hit Netflix on Oct. 27.
Watch Romper's new video series, Romper's Doula Diaries:
Check out the entire Romper's Doula Diaries series and other videos on Facebook and the Bustle app across Apple TV, Roku, and Amazon Fire TV.