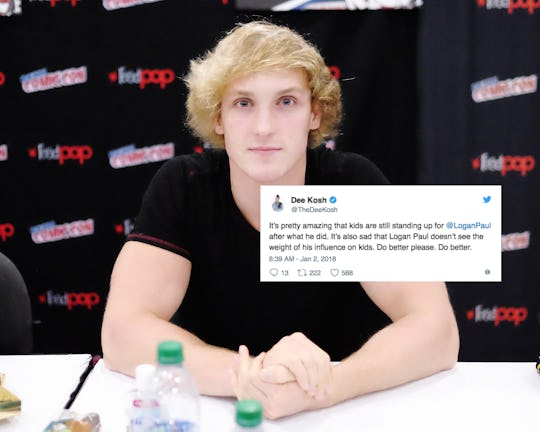 Nicholas Hunt/Getty Images Entertainment/Getty Images
Here's What Parents Need To Know About YouTube Star Logan Paul's Recent Viral Video
A name you'll probably see in headlines today is "Logan Paul" — and if you're like me, you'll have no idea who the heck this guy is. After a little online research, though, I quickly learned he's a mega YouTube star with content geared toward teens and pre-teens. With 15 million subscribers and millions of views on every daily video he publishes, he's kind of a big deal. Which is why the recent controversy about the 22-year-old showing the body of a suicide victim is so concerning. Here's what parents need to know about Logan Paul. Romper has reached out to Paul for comment, but did not immediately hear back.
The Washington Post reported that Paul is receiving tremendous backlash after posting a video on his YouTube channel of the body of a person who had hanged himself in a Japanese forest — the Aokigahara, where dozens of corpses are found every year, according to the publication. As viewers found out in the now-deleted video, the original plan was for Paul and his crew to camp out in the forest and pretend to see things. (Like a haunted forest type of deal.) Except, as they were walking through Aokigahara during the day to find a campsite, they stumbled upon an actual dead body.
CNN reported that with the camera rolling, viewers got a close-up view of the body (with the face blurred out.) "I'm so sorry about this Logang," Paul said, referring to his millions of YouTube followers. "This was supposed to be a fun vlog." Paul continued:
We came here with an intent to focus on the haunted aspect of the forest, this just became very real and obviously a lot of people are going through a lot of sh*t in their lives ... Suicide is not the answer, guys, there are people who love you and care for you.
While the original video has been removed from Paul's YouTube channel, it is still circulating online in other forms. In this clip from the video, Paul and his crew are freaking out in a parking lot about what they just saw, reported The Washington Post. (The body is not shown in this clip.) "This is the most real vlog I've ever made," Paul said. "400 vlogs And I've never, I've never had a more real moment than this."
Let's just say Twitter is pretty pissed about the video. (Yet somehow, it managed to attract more than 6 million views and hundreds of thousands of likes, according to The Washington Post. Yikes.)
Still, some Twitter users think the warning at the beginning of the video should have stopped young kids from watching. The message read: "The Video isn't monetized 'Logansters' SUICIDE isn't a joke. Don't take a[sic] lightly. If you're suffering from depression or have suicidal thoughts tell someone." Others blame parents for allow kids to watching the content in Paul's videos.
On Monday, Paul took to Twitter with an apology for his vlog. "I'm sorry," the YouTube megastar wrote. "This is a first for me. I've never faced criticism like this before, because I've never made a mistake like this before ... I didn't do it for views. I get views. I did it because I thought I could make a positive ripple on the internet, not cause a monsoon of negativity." The post continued:
I'm often reminded of how big of a reach I truly have & with great power comes great responsibility ... for the first time in my life I'm regretful to say I handled that power incorrectly. It won't happen again.
As Metro reported, Logan Paul is worth around $6 million. He first catapulted to internet fame through the now-defunct Vine. And apparently, Paul was the fastest person to reach 10 million subscribers on YouTube, according to the publication. (His younger brother, Jake Paul, 20, is also an impressively popular YouTuber and former Disney star.) So yeah, this guy reaches an impressive amount of young people every single day.
To me, Logan Paul's controversial video only confirms that I need to remain diligent about policing what reaches the eyes of my children. Even if a YouTube channel seems "kid-friendly" (which, in my opinion, Paul's does not,) huge lapses in judgement by people behind the camera can have real consequences. This incident is proof of the influence YouTube stars have — and a jarring reminder that parents shouldn't blindly trust online strangers to entertain their kids without regular monitoring.