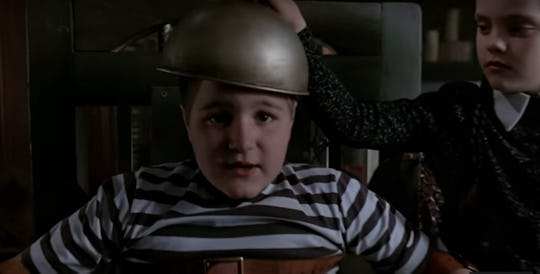 Paramount
You Won't Believe What Pugsley From 'The Addams Family' Looks Like IRL
Settling in for a showing of The Addams Family and Addams Family Values is a necessary part of getting ready for Halloween, and don't let anyone tell you otherwise. Both films have an infectious sense of fun wrapped up in a coffin-sized package, and the performances are a key part of what makes them so great — though you may not recognize everyone outside of their distinct makeup and costumes. For example, you may be surprised to find out what Pugsley from The Addams Family looks like IRL; he might not be quite as familiar without those telltale striped shirts.
Pugsley was played by an actor named Jimmy Workman, who is currently retired from the profession. His last onscreen credit was a video from 2004 called To Kill a Mockumentary. His part in both Addams Family movies might be the best known of anything in his filmography. Though he popped up in episodes of Matlock and Saturday Night Live in the '90s (as well as appearing in the TV remake of Christmas in Connecticut), Pugsley remains his most famous role.
And it was one he found his way into almost by accident. Workman comes from a family of actors, and he was accompanying his sister Shanelle to her Wednesday Addams audition when the producers took notice of him. They asked him to read for the part of Pugsley and the rest was history.
But Shanelle Gray isn't the only actress in the family. Both she and Jimmy are the older siblings of Modern Family star Ariel Winter, who has played nerdy middle sibling Alex Dunphy on the series for going on nine seasons. Though Workman has remained private since leaving acting behind, he returned to the public eye briefly due to some turbulence in his family.
In 2012, Winter alleged that her mother Chrisoula Workman had subjected her to emotional abuse. A custody battle ensued in which Workman publicly stood with his parents, while Gray stood with Winter; he even tried to get custody of Winter himself, claiming Gray was not a good influence as Winter's guardian. In a statement to the judge, he wrote that the situation "has sickened me in a very bad way." He urged the judge to consider counseling for the family instead of removing Winter from their mother's care, writing, "My position is not to take sides with anyone but to get this family back where it belongs."
Ultimately, Winter was emancipated and remained with her sister, with whom she still seems to be very close. During an appearance on The Ellen Degeneres Show, Winter said that Gray was "the best part of my life" and that her support over the years had been incredibly meaningful. When speaking to People in 2012, Workman said that neither he nor his parents were speaking to Winter or Gray, but that he loves his younger sister and wants to see her. It's unclear whether they have since reconciled, but from interviews it seems like Winter only speaks to her sister and not the other members of the family.
With the exception of his involvement with Winter's custody, Jimmy Workman has stayed out of the limelight. According to Cosmopolitan, he lives in California with his family and sticks to the technical aspect of movies and TV. He currently works for Teamsters Local 399, a trade union that represents workers in the industry. He can be spotted on the far left of a group photo on the Teamsters Instagram account, sporting sunglasses and looking more normal than one would ever expect from a former Addams.
Workman may have made an impact as Pugsley Addams, but it doesn't seem like acting was the career for him. If sticking behind the scenes is what works for Workman, then more power to him. Fans can (and probably will) enjoy The Addams Family for decades to come.
Watch Romper's new video series, Romper's Doula Diaries:
Check out the entire Romper's Doula Diaries series and other videos on Facebook and the Bustle app across Apple TV, Roku, and Amazon Fire TV.