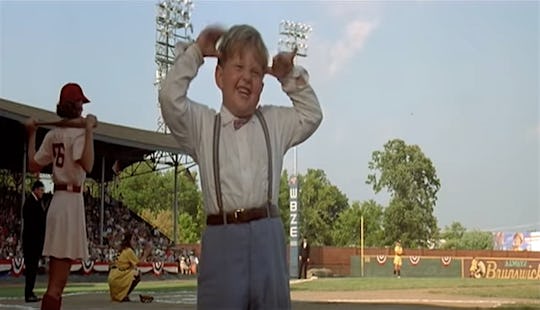 Columbia Pictures
Here's What Stilwell From 'A League Of Their Own' Looks Like All Grown Up
A League of Their Own had no shortage of memorable moments and quotable lines. I mean, who could ever forget annoying little Stilwell taunting Tom Hanks that the team was going to lose, only to get clocked in the face for his trouble? But since he was just a kid then, you may be wondering what Stilwell from A League of Their Own looks like all grown up — and if he ever recovered from that blow to the head.
Stilwell was the son of right fielder Evelyn Gardner, and he was played by Justin Scheller as a child. Interestingly, the film did provide a little glimpse into Stilwell's future when it jumped forward from the '40s to the then-present day. Mark Holton took on the role of the adult Stilwell in the movie when he showed up at the Baseball Hall of Fame to honor his deceased mother and her place on the team. But what about Scheller? What has he gotten up to in the days since he mocked Hanks' Jimmy Dugan?
It's difficult to tell, because Scheller appears to have given up on movies right after A League of Their Own; it's the only acting credit to his name. But at least his only acting role is one audiences will never forget.
Since Scheller has stepped away from the public eye and lives a normal, private life, it's not so easy to get a glimpse at what he looks like these days. Luckily, a news network in Evansville, Indiana caught a snap of Scheller for their Twitter account — and, fittingly, he was enjoying a game at the time. Scheller looks pretty much exactly how you would imagine a grown-up Stilwell to look, though he appears to have retired from trash-talking the teams.
Though Scheller keeps out of the limelight, he did do an interview with USA Today High School Sports in 2014 where he talked a little bit about the experience of the film and the effect it had on his life. These days he works as the head couch at Springs Valley in Indiana, but he's left baseball behind; it's all about football for him now. Though he had nothing but positive things to say about the cast of the film (Hanks used to play catch with him between takes), the process of filming a major motion picture was just too much for young Scheller.
Scheller landed the role over 400 other Evansville residents, but it didn't prove to be an enjoyable experience for him. The long hours were difficult for a kid under seven years old, and he spent months missing school and being away from his peers. He also reportedly found it stressful to perform because he knew a mistake could cost so much time and money. He was shy, too, which just made it worse. But despite the lack of fun on set and his disinterest in acting since, Scheller doesn't seem to spend much time dwelling on A League of Their Own.
"I don't try to avoid it, but it's not something I go spouting off or bragging about," he said. "I don't mind talking about it when people find out, but it's not something I mention. Most of my friends do it for me. That's how it's been my whole life. It's not something I'm ashamed of by any means. It's just not something to brag about."
To each their own, but if I got to pal around with Geena Davis, Lori Petty and Rosie O'Donnell, I would certainly brag about it to whoever would listen. It's too bad that Scheller didn't have the fun that Stilwell got to, but he seems to have settled into a job he enjoys a lot more.
Check out Romper's new video series, Romper's Doula Diaries:
Watch full episodes of Romper's Doula Diaries on Facebook Watch.