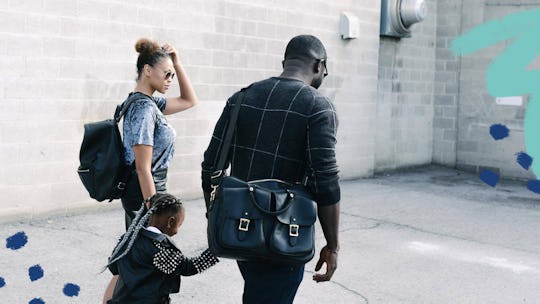 What That Instagram Post Of My Family Doesn't Tell You
If a picture is worth a thousand words, then these days, a perfectly curated social media feed could practically write a novel. As the founder of the blog Mom Crush Monday, I've learned over the years what kind of content helps my audience grow. As a result, my feed has adapted to include a carefully selected mix of outfit inspiration, words of wisdom, and some of my favorite snapshots of my 4-year-old daughter, Honor. But, even though the premise of my blog is to celebrate every form of motherhood, you'd never guess from a quick scroll through my Instagram feed that I co-parent my daughter with my ex, and it's a challenge I face every day.
I remember my family's last night in our condo together like it was yesterday. The three of us danced to Bob Marley's "Three Little Birds," with the lyrics "every little thing is going to be alright" echoing through our empty living room. We cried, and I remember thinking to myself, "This is good. It's OK to be sad." Standing together in our living room, Ibrahim and I comforted each other and made sure Honor knew there was always going to be love between the three of us; that we would always be a family. Her family. Later, Ibrahim and I sat on the floor of our empty condo, in disbelief that it was over. We talked about our boundaries and how we would navigate our new journey. Even though we both knew that moving forward separately was the right decision, the fear we both felt in that moment was palpable.
Now, my beautiful daughter is 4 years old, and while I am a single mama, my preference is to say I'm a co-parent. The reality is that Honor has two parents who love her and care about her well-being, but the two of us just happen to work best as friends and not in a romantic relationship. And while that may make our situation sound simple, I can assure you it's anything but.
Co-parenting a kid with an ex is hard, but that wasn't always the dynamic I've had with Honor's dad. Ibrahim and I were best friends, and we've always loved each other. When we ultimately decided to split up, there was no glaring neon sign reading, "Red alert, leave him now!" There was no cheating, no abuse, no controlling behavior. He never mistreated me or made me feel less than. In fact, still to this day, he builds me up and is one of my greatest supporters. Simply put, we broke up because we could feel something was missing in our relationship. I knew we weren't growing together in the right ways, and that caused us to devalue ourselves and our own personal potential.
I think it's still strange for other people to see us acting as a traditional family, and with no conventional explanation behind our decision to part ways, it often feels hard to justify to people who ask about my relationship with Honor's dad. In their eyes, I left someone who did nothing wrong. But after all is said and done, I'm proud I was able to recognize that I was lacking in that relationship, which in turn made me lack as a woman and a parent, and that's something I am never willing to compromise on for anyone.
On our first night on our own, Honor and I went out for ice cream — just the two of us — and the freedom and happiness of that night was all the confirmation I needed that I'd made the right choice for both of us. Yes, it still was and still can be scary, but I'm okay with scary. Scary can be overcome, but I've learned that happiness cannot be compromised, and now I'm so happy knowing we made the choice to form a family dynamic that works for us instead of the one society tells us we need to have.
I used to think families had to look a certain way. I was raised by a single mom, and I swore to her up and down I would never be a single mom; but here I am embracing it and navigating the most empowering waters. I've learned through my own experience that what is right for me might not be right for another mom. Now I only encourage other mothers to make the decisions for themselves, not because someone else wants you to or for fear of embarrassment. I have so much respect now for the different journeys each mother goes through, and I'm so much more understanding of how important it is for us each to follow our own path. There is no right or wrong way to be a mom, only the way that is right for you.
My hope for every other mama who comes across my blog or Instagram page is for them to know that it's OK for their journey to not look like mine and Honor's — that whatever story is unfolding in their journey through motherhood is just as valid and important as anyone else's. This is your life and what you are doing is right for you. At the end of the day, whether you are married and parenting with a spouse, single-parenting, or co-parenting and going to the museum for family days like my family does, only you can set your standards. Whatever your story is, I hope you're able to embrace it, and I hope you know that you're doing a great job.
This post is sponsored by Baby Dove.