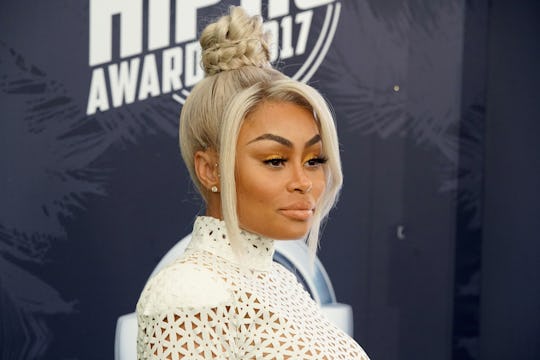 Bennett Raglin/Getty Images Entertainment/Getty Images
Here's What The Kardashians Really Think About Dream
It's been an interesting year for Blac Chyna and the Kardashian-Jenner clan, culminating in a lawsuit filed by Chyna last week against the entire Kardashian-Jenner family. Chyna is suing the Kardashians for defamation and allegedly interfering with the production of a second season of Rob and Chyna. In the middle of all this drama, many fans are wondering if the contentious relations between Chyna and Rob Kardashian's family has affected their child, 11-month-old Dream Kardashian, at all. Fortunately, it seems like things have stayed civil when it comes to Dream — and here's what the Kardashians really think about Dream.
Regardless of their drama with Dream's mother, the Kardashian women have shown nothing but love for their brother's daughter. The family-oriented troupe have definitely taken in Dream as part of their pack, and — despite a custody battle that erupted between Chyna and Rob earlier this year — they've made sure she gets plenty of time with her young cousins.
Whatever issues may be playing out between the Kardashians and Chyna (both in court and out of it), the Kardashians have nothing but love for little Dream. Here's what they've said about the tiny tot so far:
Kris: Dream Is "Great"
Grandma Kris Jenner has had nothing but love for her youngest grandchild ever since she was born. "She's such a great baby," Kris told E! News in November last year. "She's been really calm and really sweet so they are very lucky."
Khloe: She's "The Most Precious"
Captioning an Instagram shot of herself and her niece, Khloe wrote in May:
She's the most precious girl! Dreamy dream. Auntie KoKo loves YOU!
Khloe has also called a picture of Rob and Dream "the cutest thing" on Instagram, and she's shared multiple pictures of her niece, always accompanied with the heart-eyed emoji. It's safe to say Aunt Khloe is in love with Dream.
Kim: She's "Beautiful"
On social media, Kim has called her little niece a "beautiful girl" and joked, "Even her cry face is pretty! I'm gonna take notes!"
Kourtney: Dream Is An "Angel"
Kourtney shared her appreciation for her niece on Instagram soon after Dream was born, according to TMZ, simply commenting on a picture of Dream that Rob posted: "She's an angel."
Kourtney has also shared Snapchat videos of her own children bonding with Dream. In one snap, according to Us Weekly, Kourtney bounced Dream on her knee, captioning the snap, "I'm in love."
Kylie: She's "So Cute"
"The photos with Rob and his daughter literally make me want to cry," Kylie told E! News in November last year. "All the photos make me want to cry—the family photos, the photos of just her, but it's really sweet. She's so cute."
A month later, Kylie shared a snap of herself cradling baby Dream.
Kendall: Dream Is "A Dream"
While on The Ellen Degeneres Show last year, Kendall had nothing but good things to say about her young niece. "She's a dream. She's so beautiful," Kendall told Ellen Degeneres, according to Hollywood Life. She continued:
She looks just like Robert Kardashian Sr. She's so pretty and [Rob's] so happy. It makes me so happy I could literally cry.
Rob: She's A "Gift"
On his 30th birthday, according to E! News, Rob posted a picture of his daughter on Instagram, along with a caption saying she was "the best gift of all." And as anyone can tell from a picture Kris posted of Rob cradling his daughter, there's only love there.
Clearly, regardless of what happens when it comes to this latest Kardashian-Chyna lawsuit, Dream is getting nothing but love from both her mom and the Kardashian-Jenners. And no matter how things turn out legally, that's the most important thing.
Watch Romper's new video series, Romper's Doula Diaries:
Check out the entire Romper's Doula Diaries series and other videos on Facebook and the Bustle app across Apple TV, Roku, and Amazon Fire TV.