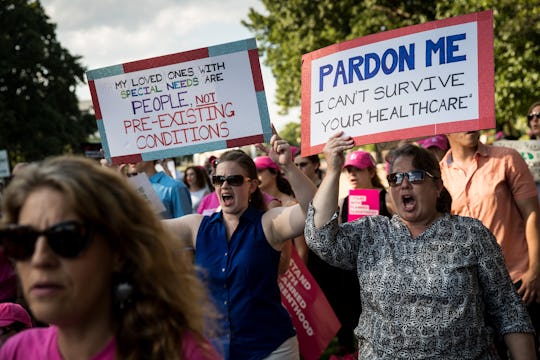 Drew Angerer/Getty Images News/Getty Images
Here's What The Obamacare Repeal Fail Means For Moms
After a dramatic night in the Senate, the so-called "Skinny repeal" was rejected by the narrowest of margins. It can be hard to keep up with all these bills, and some might wonder what the latest Obamacare repeal fail means for moms. The good news is nothing... yet. Senate Republicans pushed for a vote late Thursday night, despite the the fact that the most recent health care plan was so new, most had no idea what it even entailed. That wasn't good enough for the Democrats — and three rogue Republicans — so for now, everything will stay as it was.
As is becoming a trend, Alaska Sen. Lisa Murkowski and Maine Sen. Susan Collins refused to toe the line, despite being subjected to threats of physical violence by their colleagues. And Arizona Sen. John McCain, just days out from brain surgery, returned to the Senate floor to break the tie. Despite some rather public cajoling from his fellow Senate Republicans, Vice President Mike Pence, and even a phone call from President Donald Trump, according to CNN, McCain held firm. Make no mistake, he's not an Obamacare defender; he'd just prefer a replacement that wasn't thrown together faster than your average sandwich, apparently.
McCain's vote may have come as a surprise to some, considering he'd voted to advance the bill to debate on Tuesday. Murkowski and Collins once again voted against moving the bill forward, leaving it up to Pence to break the tie, according to CNBC. It now appears that was a calculated move aimed at setting up the flimsy legislation for failure. Adding to the drama, many Republicans who did vote in favor of the bill didn't actually want it to become law; according to the New York Times, South Carolina Senator Lindsey Graham has called the bill a "terrible policy and horrible politics," a "disaster," and a "fraud." The goal was simply to send it over to the House, and hope that they'd fix it.
The legislation was labeled a "skinny repeal" because it was intended to overturn the bulk of the Affordable Care Act, but contained no replacement. It would have put an end to the individual and employer mandates and cut public health funding, resulting in 16 million Americans losing their coverage, according to an analysis by the Congressional Budget Office. It also would have prohibited funds from going to Planned Parenthood (of course) and allowed states to waive the requirement that insurance providers cover a minimum of essential benefits, like maternity care, childhood vaccines, and prescription drugs. In short, it would have been a potential nightmare for anyone who has, or has come from, a uterus, but moms and kids are now safe for a few more weeks, at least.