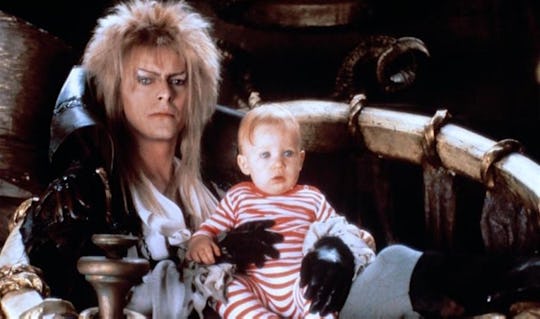 Jim Henson Company
You Won't Believe What Toby From 'Labyrinth' Looks Like All Grown Up
When asked who the cutest baby of the 1980s was, if you answer anything other than Baby Toby from Labyrinth, well you'd be wrong. So obviously, I want to know if this little "babe with the power" grew up to be as cute as he was as a little tot. So what does Toby from Labyrinth look like IRL? Let's just say that he's all grown up now and you won't believe what he does for a living. Or maybe you will.
Chances are that if you're reading this, you're already familiar with the surreal and criminally underrated '80s classic. Young Jennifer Connolly stars as 16-year-old Sarah who spitefully wishes her baby brother Toby would be taken away by the Goblin King so that he wouldn't bother her anymore. Getting her wish, Toby is then kidnapped by said Goblin King, played by the late David Bowie (a king among kings, if there ever was one). This prompts Sarah to go rescue Toby before he becomes a member of the goblin ranks forever. But to do this, she has to solve the labyrinth, and honestly the whole film is a masterpiece of costuming, camp, and an unforgettable soundtrack.
And while he may have been too young to remember the experience fully, it clearly made some sort of impression on Toby Froud, the now adult man who played the part of the kidnapped baby in the movie. And oh boy, has he grown up.
Froud got his part in the film presumably through his dad, Brian Froud, who worked as a costume designer and conceptual designer on the film. Froud can therefore confirm on very good authority that the spectacular codpiece Bowie wears in the film was intentional, as he did in an interview with Huffington Post. Since being in the film as a baby, Froud has grown up around movie sets and naturally got into the business himself. Like his father, though, Froud seemed more attracted to the art department of films rather than being in front of the camera. He is now a successful animator and puppeteer.
Froud has worked on films including The Chronicles of Narnia: The Lion the Witch and the Wardrobe, ParaNorman, and The Boxtrolls. He has also made his own short film called Lessons Learned — a live-action puppet short film. As the creator of his own world of goblins and elves, the Huffington Post article dubs Froud the new "Goblin King." And it isn't hard to see why. A quick scan of his Instagram turns up tons of pictures of puppet goblins and characters all beautifully rendered, designed, and created by Froud. Perhaps he is the true Goblin King after all.
"It's interesting growing up with the idea of being the baby in the Labyrinth and becoming the Goblin King as it were, it's sort of passing the mantle," Froud told the outlet. "But I grew up in this world of fantasy and this world of goblins, and I sort of formed my life around the art of creating creatures and puppets and characters with my parents. Certainly it's led me to interning and working in film and television."
Now that he's a real adult and everything, Froud appears to have done other adult things like getting married and having a little goblin baby of his very own. I'd imagine that growing up with the Goblin King as your dad has to be pretty cool. Who knows, maybe Froud's son will grow up and carry on the family tradition and become a Goblin King in his own right some day. And who knows what kind of scary creatures he'll be able to come up with by that time.
All I can really say is that while I'm still heartbroken that Bowie has passed, I am glad that at least the Goblin King lives on.
Watch Romper's new video series, Romper's Doula Diaries:
Check out the entire Romper's Doula Diaries series and other videos on Facebook and the Bustle app across Apple TV, Roku, and Amazon Fire TV.