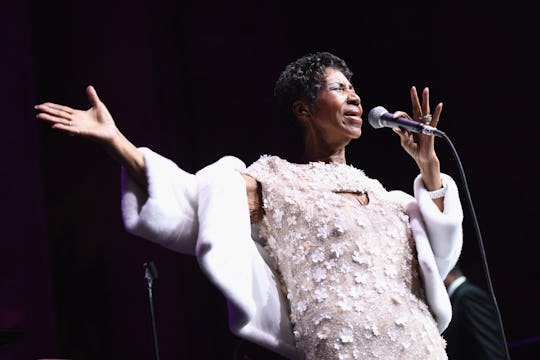 Dimitrios Kambouris/Getty Images Entertainment/Getty Images
Here's Everything We Know About Aretha Franklin's Health
Aretha Franklin, the legendary singer, is reportedly very sick. The main thing we know about Aretha Franklin's health at the moment is that she is seriously ill, and things aren't looking good for the Queen of Soul. There's always a chance things could turn around for the performer, but sources close to the situation are indicating that is likely not how the situation is going to go.
Franklin, who is just 76 years old, has been under hospice care at her home in Detroit's Riverfront Towers, according to USA Today. A source described as a "longtime friend" said the singer "has been ill for a long time," but that Franklin hadn't wanted people to know and didn't make it public, according to People.
Romper contacted a representative for Franklin for comment on her health, but did not immediately receive a response.
Someone who has reportedly been close to Aretha for many years told TMZ Franklin has been battling cancer, but that has not been confirmed. Previously, rumors raged that Franklin had gone through emergency surgery for a mystery illness in 2011, but she refused to address what she went through when JET magazine asked. Franklin reportedly told the magazine, according to Mercury News (a link the the original JET article appears to be unavailable):
I am not going to even deal with that. I don't have to talk about my health with anybody other than my doctors. The problem has been resolved.
Franklin canceled planned concerts earlier this year after her doctor ordered her to stay off the road and rest, according to CBS News. Franklin's last known performance was at a private gala for the Elton John AIDS Foundation in November 2017, CNN reported. She had said last year that she planned to retire, but would still perform at "some select things," ABC affiliate WTVD-TV reported Tuesday.
Detroit news anchor Evrod Cassimy of Local 4 has reportedly been kept updated on Aretha's health and the situation by her family, and wrote on Twitter on Monday:
I am so saddened to report that the Queen of Soul and my good friend, Aretha Franklin is gravely ill. I spoke with her family members this morning. She is asking for your prayers at this time. I'll have more details as I'm allowed to release.
Later the same day, he tweeted again and said, "Just got a chance to speak to Aretha Franklin. She is resting and surrounded by close friends and family."
The fact that Cassimy got to speak to Franklin may be a good sign, but other sources say that her health has been declining and that things aren't looking good for the soul singer.
A source close to Franklin told TMZ he was told a week ago, "Prepare yourself, she's dying," and that Franklin was down to 86 pounds. They also claim that 2 weeks ago, people in Franklin's life were told "she could go any time."
But the truth is, the only people who really know any details about Franklin's health at the moment are her doctors, closest family, and dear friends. The singer and her nearest and dearest likely want some privacy during this difficult time, and, despite their decades of adoration of the iconic singer, the public is only entitled to the information she herself would like released to them.
Franklin is probably best known for her singing career, with her soulful sound and gospel roots. She was the first woman to be inducted into the Rock and Roll Hall of Fame, in 1987, and at age 52, was the youngest at that time to receive a Kennedy Center Honor, according to CNN.
Additionally, Franklin has 44 Grammy nominations and 18 wins, and has performed at the inaugurations of three different presidents: Jimmy Carter, Bill Clinton, and, last but certainly not least, Barack Obama. She clearly has had a long and illustrious career and exciting, admirable life, and, hopefully, we haven't seen the last of Aretha Franklin just yet.