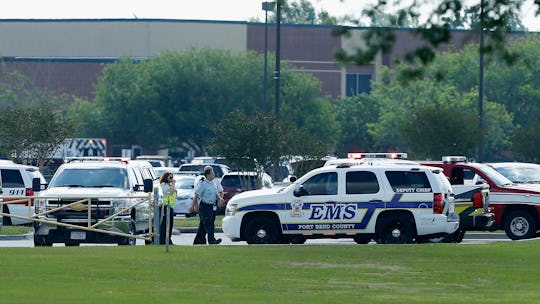 Bob Levey/Getty Images News/Getty Images
Here's What We Know About The Shooting At Santa Fe High School
It's a news story no one ever wants to hear, but on Friday morning — just over three months since the Parkland, Florida, shooting that killed 17 people — a gunman opened fire at a high school in south-east Texas, leaving at least eight people dead. Details are still being revealed, but here's what we know about the shooting at Santa Fe High School so far.
The gunman is thought to have entered the school and pulled the fire alarm at around 7:45 a.m, according to The New York Times, after which point he opened fire — reportedly in a first-period art class. Multiple students told CNN that they had left the school thinking it was a normal fire drill, but about five minutes after the alarm first went off, they heard gunshots, and teachers told them to start running. Officials have reported that the majority of the identified victims are students, though a police officer who works for the Santa Fe school district as a school resource officer was also injured. A suspect is now in police custody, while a second person has also been detained as a person of interest, both of whom are also said to be students, according to The New York Times.
Santa Fe is a city of about 13,000 residents located between Houston and Galveston, according to CBS News, and Santa Fe High School is the only high school in the area. In April, students participated in the national school walkout against gun violence, according to CNN, honoring the victims of the Parkland shooting, and calling for legislation that could finally put an end to school shootings. Yet Friday's shooting has now become the 22nd school shooting of the year, according to CNN, occurring only two days after a 19-year-old suspect arrived armed at Dixon High School in Illinois before being injured by a school resource officer who shot at him, according to TIME.
President Donald Trump first responded to news of the Santa Fe shooting in a tweet that read, "School shooting in Texas. Early reports not looking good. God bless all!" He then followed up with a public statement, in which he expressed his "sadness and heartbreak over the deadly shooting," according to Vox, and added, "This has been going on too long in our country. Too many years, too many decades now." The president said,
We grieve for the terrible loss of life and send our support and love to everyone affected by this absolutely horrific attack to the students, families, teachers and personnel at Santa Fe High. We're with you in this tragic hour, and we will be with you forever.
My administration is determined to do everything in our power to protect our students, secure our schools, and keep weapons out of the hands of those who pose a threat to themselves and to others. Everyone must work together at every level of government to keep our children safe. May God heal the injured and may God comfort the wounded, and may God be with the victims and with the victims' families. A very sad day, very, very sad.
Though the suspected shooter has been detained, officials told CNN that explosive devices, including "pipe bombs and pressure cookers," were found at the school, as well as in the surrounding area, though further details are not yet available.
On Twitter, many called the shooting further evidence that common sense gun legislation was needed to keep students safe in schools, but in an interview with CBS News following news of the Sante Fe shooting, Texas Attorney General Ken Paxton said he sees things differently:
Disarming law abiding citizens doesn't actually protect our children, it puts them at greater risk. The more we regulate, the more time we lose and the more people we're going to lose. I would prefer to have people in place to protect our children, not leave it open for someone who's not going to follow a gun law to come in and kill as many children as they want to.
News of yet another school shooting is hard to even fathom, and yet, at this point, it's no longer entirely unexpected. It's clear that there is obviously great disagreement over the best way to make changes, and that is difficult. But until something is actually done, it doesn't seem unreasonable to think that Santa Fe High School won't be the last shooting we hear about.