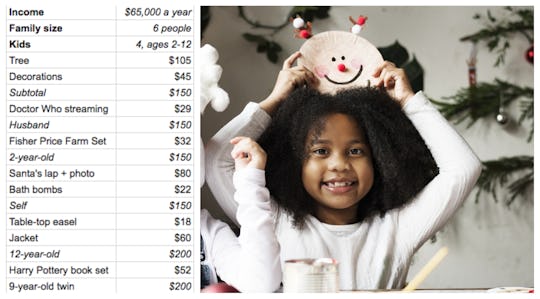 Fotolia
We're A Family Of 6 Living On $60,000 A Year, & Here's What We're Spending On Christmas
Raising a child supposedly costs you a quarter of a million dollars, but it can honestly be more daunting to face the idea of spending $80 on bottle nipples in a single month. Expense Report gives us a look into the spending, scrimping, and wishing that defines parenthood, from what moms spend on birthdays, to childcare, to sleep, to self-care (we wish!), and beyond.
The holiday period is the biggest retail event of the year, and especially so for families. So what does a burgeoning family of six spend on Christmas shopping? For this Californian mom, it depends on the kids' wish-lists, and on whether you're getting a real tree or a fake one.
Each year, the holidays are a huge deal in my household. Not only because I have four children, but because I love Christmas! It's totally my holiday — from the decorations to the carols to the gift-giving, I feel as if Christmas is my time to shine! The happier each person is with the gifts I give and the food I make, the happier I am. And let me not forget all of the food I prepare — I love baking cookies and cakes and making the house smell magical!
This year, I'm going all out (but on a budget). As a family of six, we have to allot a certain amount per person, but also leave room in our spending for decorations, the big dinner, and any holiday outings that could cost money.
Family: A Mom And Dad In Their 30s
Location: West Coast
Annual income: About $65,000
Number of children: Four (11, 9-year-old twins, 1)
Decorations: $200
We've always been the "fake tree" family. I've never wanted to deal with getting a real tree, and I didn't grow up with one. Each year, we pull out the Christmas tree box from our downstairs storage space and try to figure out a way to re-arrange the branches to make the tree look "fuller."
Last year we noticed our white tree started to look dull, perhaps kind of yellow? So after Christmas was over, we threw it out and decided to start anew. This year, we're budgeting about $200 for a new tree. No need for new decorations, as we have a ton of ornaments, tinsel, and various other lights and wall hangings from previous years.
Husband: $150
My husband is typically a hard person to buy for, so this year, I'm starting early! From the new Doctor Who series to a few new music groups he's into, I'm sure it won't be as hard to find his gifts on Amazon or at the mall.
Myself: $150
I would say for my husband to spend even less on me, as I'm not into expensive things. Perhaps I could use a new pair of Jordans or Nike sneakers, but these are not necessarily on my list this year. I'd prefer small things that come from the heart, that typically aren't expensive. On my Christmas list this year, I'm asking for nice-smelling bath bombs (I do not ask for much!), a new wallet, and some cute earrings — things of that nature. My husband knows me well and knows what I like. He's a terrific gift-giver!
Oldest Daughter, Age 12: $200
I'm thinking this year we might have to spend a little bit more on our oldest daughter. Not because she has expensive taste, but because her clothes cost a little bit more now that she's shopping in the juniors section. She's pretty tall for her age and is starting to care about fashion and how she looks, which is completely understandable! I have a sporty jacket from Boden in mind for her.
On top of that, she's an artist who draws most of the time. We plan to get her new colored pencils, markers, and paint. She's also been asking for a table-top easel, which I know I can get for pretty cheap on Amazon.
Twin Daughters, Age 9: $200 Each
My twin daughters are fairly easy to buy for. They love art, books, and clothes. I know I have to get them the same art supplies as their older sister, or it could become a problem! Yes, my artist daughters constantly fight over art supplies. Lately, my twins have been fighting over books. Books! They don't want Kindles; they like the feel of paperback books and carry whatever book they are currently reading everywhere with them! I love this about them and would love to continue encouraging this, so I'm asking them for a list of books they've wanted. I know one daughter is really into the Harry Potter books now, so I plan to get the book series for her. I see the set is currently going for about $50 on Amazon, so I'll say it's a gift for both and they can share them. (Or will this cause more fighting over books?!)
Toddler Son, Almost Age 2: $150
OK, yes, I do plan to spend a little less on the baby, but will he know this? Of course not! He's almost 2 and really doesn't need a lot of toys. We are those parents who bought him a small gift every month-birthday for the first two years. Some of his old toys are about to be retired (because he's too old for them), so we're going to get him a Little People playset, which averages about $35–$40 on Amazon. We'll also get him some new shoes for about $20 and some other little things, such as books (he loves to be read to).
Misc: $250
I'm budgeting an extra $250 for things like possibly making a visit to Santa for the baby (not the girls, who might find this "lame" now, given their ages).
But also each year, as I mentioned before, I throw down in the kitchen on Christmas and I fully intend to continue my tradition of making lots of sugar, gingerbread, and chocolate chip cookies. I also might make a cake or two and, of course, the girls will volunteer to help! Help in the kitchen, after all, costs nothing.
Total Christmas Budget: $1,400