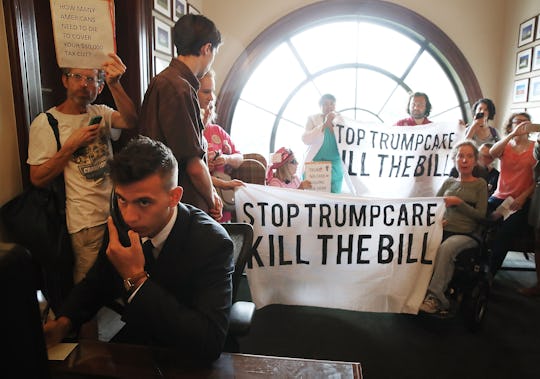 Mark Wilson/Getty Images News/Getty Images
Heads Up, The Fight To Protect Obamacare Isn't Over
Early Friday morning, Republican Sen. Mitch McConnell of Kentucky suffered another defeat in his efforts to repeal the Affordable Care Act. The Senate Majority Leader couldn't garner the supported he needed to pass his "skinny repeal" legislation, as three Republicans defected to the "No" side of the aisle. There's talks, of course, of reviving the bill. So here's what you should do after the Obamacare repeal fail, because it's not over yet.
According to CNN, Republican Sens. Lisa Murkowski, Susan Collins, and John McCain sided with Democrats in voting down the "skinny repeal" bill that would have undone some provisions of the Affordable Care Act. McCain's "Nay" vote was a surprise to most people, as the Arizona senator helped provide the vote needed to get legislation to the floor in the first place. Most notably, though, is Murkowski's unwavering opposition; despite reportedly being threatened by the Department of the Interior Secretary Ryan Zinke, as reported by the Alaska Dispatch News, Murkowski decided to stand by her constituents rather than party politics.
Still, this early morning defeat could be a temporary victory. McConnell has shown over and over again that he is not going to let go the GOP's misguided dream of repealing the ACA.
Contact Your Elected Officials
It's important you continue to contact your elected officials and let them know losing the ACA would be devastating to tens of millions of people in the United States. You could also let them know what you thought of their vote on the skinny repeal bill.
Not sure who to reach out to? Visit the U.S. House of Representatives website and enter your zip code to find out. If you're looking for your senator, head to U.S. State Senate website and choose your state. Both websites will pull up your elected official's name and contact information. You could also identify your local lawmakers by visiting 5 Calls, which pulls up necessary contact information when you click on one of the issues highlighted.
Speak Out Publicly
There are so many ways you can speak out about the importance of improving the Affordable Care Act without demolishing it all together, which is the GOP's endgame.
You could start with educating friends, family members, and yes, even strangers when they make false assertions about the health care reform (once, I had to correct my mother about the ACA's impact on Medicare, and how the legislation actually helped the program). You could also share articles, blog posts, and stories about how the healthcare law, despite its flaws, saved the lives millions of people once shut out from the insurance industry because of discriminatory practices. People with disabilities, low-income families, transgender people, and older Americans were among the populations helped most by the law.
Protest The Bill
Protesting is an effective way to show dissent. You could protest in the streets or online. You could head to Capitol Hill or find an online meetup of activists. You could write scorching articles or rally organizers at your home. Virtual marches are also an important way to be inclusive of disabled activists who are often excluded from protests. And disabled activists, by the way, are largely why Trumpcare has been squashed over and over again.
Trumpcare is the Jason Voorhees of Republican-sponsored legislation, so expect another installment of the bill in the near future. While it's reasonable to feel some joy over its early morning demise, people should also remain diligent in ensuring its constant defeat.