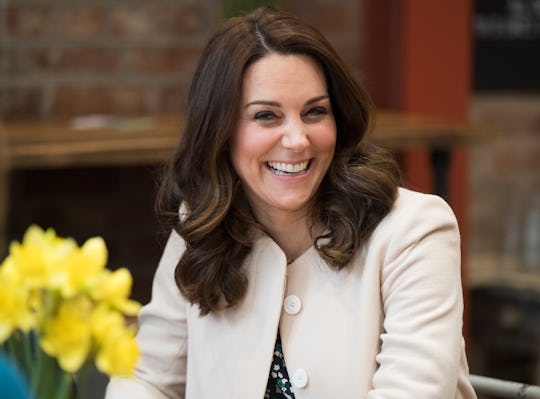 WPA Pool/Getty Images Entertainment/Getty Images
People Have A Few Theories About When The Royal Baby Will Arrive
Prince William and Kate Middleton have managed to keep the details of their coming baby hush-hush. All of the unknowns have led to a lot of speculation, particularly when it comes to Middleton's due date. Kensington Palace has only confirmed that she is due some time in April, but here's when everyone thinks the royal baby will arrive.
A new page dedicated to the royal baby has been added to the royal family's official website, but it doesn't provide much insight as of now. Aside from a reminder of when Prince William and Middleton announced the pregnancy, all the site shows is one line: "Updates will be posted on this page and on @KensingtonRoyal's Twitter account as they become available," and a tweet. Surely more information will be provided once the little prince or princess makes his or her arrival, but in the mean time anyone suffering from Royal Baby Fever is stuck speculating.
Emily Andrews, royal correspondent for The Sun, appeared on British talkshow Lorraine earlier this month where she shared her take on the Duchess of Cambridge's due date, according to Cosmopolitan. "Kate is due on St. George's Day which is the 23rd of April," she said. She did not share her source for that information, so it is far from official word. But as the outlet's go-to source on all things royal, many are confident that Andrews knows her stuff.
Andrews went on to explain that Middleton delivered both of her other children after her due date, leading some to believe that she will deliver her third baby late as well. "She was late with George and Charlotte but I would imagine the baby will be arriving in the last week of April," Andrews said.
She's not the only one who has an opinion on when the baby will come. Forbes reported that bookies across the U.K. are taking bets on Middleton's due date. Popular dates include holidays during April including the Queen's birthday on April 21, Andrew's guess of Saint George's Day, or Prince William and Middleton's anniversary on April 29. The Queen's birthday is currently in the lead, with odds at 10-to-1, according to Forbes.
Fans have also had a lot to say about Middleton's pregnancy and her potential due dates.
Kensington Palace has remained quiet in the face of the many rumors circulating, confirming on that the baby is due in April 2018, with no specific dates given. With April nearly halfway over, the day — whatever it is — is fast approaching.
While William and Middleton are likely busy wrapping their minds around having a third child at home, St. Andrews Hospital, the hospital where Middleton delivered both Prince George and Princess Charlotte, is busy preparing for the baby's arrival as well. Temporary parking restrictions have been set up around the hospital, according to People, and press positions have been assigned to media. The notices in place are suspending parking from April 9 to April 30 for an "event."
Prior to placing the "No Parking" signs around the hospital, Elle reported that St. Andrews posted "Wet Paint" signs on the railings outside of the hospital. This is the location where William and Middleton posed for the media after leaving the hospital following the births of both Prince William and Princess Charlotte, so it makes sense that St. Andrews would want that spot looking nice for the next set of photos as well.
No matter when Middleton's due date is, or when she actually ends up delivering, one thing is for sure: fans will not have long to wait until they get all of the royal baby updates they have been waiting for.