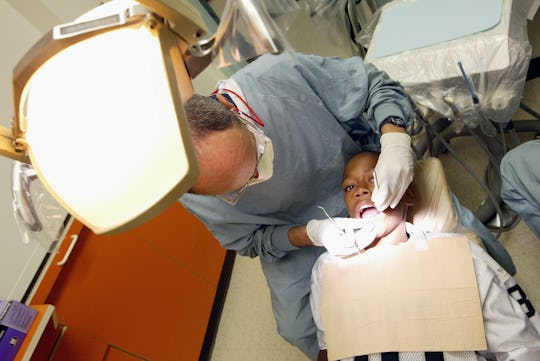 Justin Sullivan/Getty Images News/Getty Images
Here's When Kids Should Start Going To The Dentist
Currently, the American Dental Association and American Academy of Pediatrics recommend parents send their children for their first dental visit before 12 months old of age. The thought is that, if you start your kid's dental hygiene early, you'll prepare them for a lifetime of healthy teeth. But research published this week has called that conventional wisdom into question. According to a new study, here's when kids should start going to the dentist: closer to 2 years old.
Researchers with the University of Alabama at Birmingham School of Public Health found that kids who went to the dentist before 24 months may not actually have a lower risk of future cavity or other dental issues, CBS News reported. Particularly, their findings, published Monday in JAMA Pediatrics, suggests little evidence exists to assure that babies who receive preventive dental care will need fewer dental visits for cavities after the age of 2.
In fact, they found the opposite: A review of claims records of the one-quarter of kids in Alabama's Medicaid program who received preventive treatment found that they were more likely to need tooth decay treatments over several years than those children who did not receive earlier preventive care. Lead researcher Justin Blackburn told CBS News,
We're not trying to say that dentists are somehow causing kids to have tooth decay ... This is something we should keep studying, to make sure we're recommending what's right.
Blackburn does acknowledge that his study has some limitations. First, researchers only studied the records of nearly 20,000 children enrolled in Alabama's Medicaid program. Second, they relied heavily on administrative data for information, which means they would not know "about [the children's] clinical status," Dr. Peter Milgrom, a professor at the University of Washington School of Dentistry in Seattle, told CBS News.
The American Dental Association has criticized the study, stating that the lack of certain data sets makes a definitive conclusion impossible. Dr. Mia L. Geisinger, a member of the ADA Council on Scientific Affairs, said in a statement,
As the authors state, this study design did not allow for evaluation of factors such as a genetic predisposition, previous disease and environmental considerations such as diet, frequency of brushing and flossing, the use of fluoride toothpaste and drinking fluoridated water, all of which are crucial in reducing the risk of cavities.
According to the American Academy of Pediatrics (AAP), early childhood cavities (also known as caries) is the number one chronic disease among children — more common than asthma and hay fever. Tooth pain can also make it difficult for children to learn and may keep them home from school or play dates.
There may be controversy over what age you should send your child for their first dental visit, but there's no doubt that good dental hygiene starts before the first tooth comes in. KidsHealth recommends a number of preventive measures that parents could take at home including limiting or eliminating juice and sugary drinks, weening your kid off the bottle after age 1 to prevent bottle mouth, using fluoride toothpaste for your little one, and, if teeth haven't broken through yet, wipe your baby's gums with a damp cloth to clean away germs and bacteria.