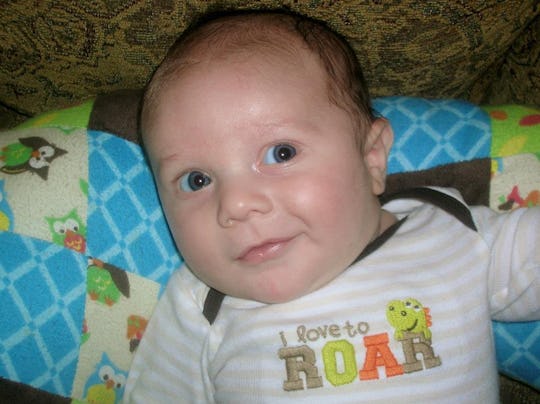 Courtesy of Steph Montgomery
Here's When Your Baby Will Smile For The First Time, Based On Their Zodiac Sign
There's really nothing more amazing than the first time your baby smiles at you. Now, I'm not talking about the newborn smiles that happen by reflex or as the result of a bowel movement. I'm talking about the real deal, my friends. That smile of pure, unadulterated joy. My daughter's first grin was a force strong enough to melt my heart and provided definitive proof that magic is real in this often confusing world. So, I anxiously waited for the moment when my next baby would smile for the first time.
Turns out, I had to wait much longer for my son's first smile, which made me think I was doing something wrong. Eventually, though, it happened, and you can bet your you-know-what it was well worth the wait. It makes me wonder, though: is there any way to predict when it your baby will smile? Does it say something about their temperament? Like, is smiling early a sign of a cheerful child, or a totally random occurrence? Is it predetermined by fate or something that can be taught or encouraged by a fun-loving parent or 100 games of peek-a-boo?
For fun, I decided to consult astrology to see if my babies' profiles had anything to say about their willingness to flash a grin. To my surprise, I discovered that when it comes to smiling for the first time the stars are pretty damn accurate. My daughter is a Gemini, which according to Astrostyle means she is charming, chatty, and yes, pretty much always smiling. My middle child is a quintessential Scorpio, though, which means he's intense and likes to take his time to build trust before smiling. My youngest is an Aquarius, who are known for their adorable smiles. In fact, I actually think he was born smiling. My kids' astrological charts were so spot on that they made this skeptical muggle a believer in the Zodiac, which is saying a lot.
So, if you want to know what the stars have to say about when you might expect to see magic at work in your baby's first smile, read on: