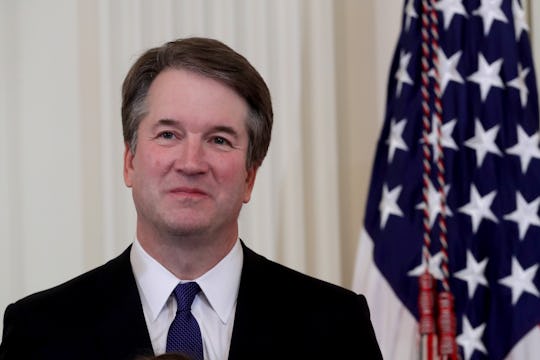 Chip Somodevilla/Getty Images News/Getty Images
Here's Where Trump's Supreme Court Pick Stands On Abortion & Roe v. Wade
On Monday, The New York Times reported that President Trump nominated Judge Brett Kavanaugh to replace Justice Anthony M. Kennedy, after Kennedy announced his retirement late last month. It's an important move in the political sphere, as Kavanaugh's influence could very well create what the Times has called a "rightward tilt for a generation." Though there are many issues to be discussed, one undoubtedly circulating in many people's minds is where Brett Kavanaugh stands on abortion and Roe v. Wade. Though the judge has said he is committed to upholding the constitution regardless of his personal opinions, there's enough evidence to suggest that he's still very much pro-life.
Generally speaking, Kavanaugh claims that he governs with objectivity. "My judicial philosophy is straightforward. A judge must be independent and must interpret the law, not make the law," NBC reported Kavanaugh said in a speech on Monday evening. President Trump echoed this sentiment as well, as Politico reported he said the following about Kavanaugh: "What matters is not a judge's political views but whether they can set aside those views to do what the law and the Constitution require. A judge must be independent and must interpret the law, not make the law."
CNN Politics reported that last October, he drafted a dissent to the Supreme Court regarding whether an undocumented immigrant should be entitled to receive an abortion. In it, he argued that it was unlawful for an "immigrant minor in US government detention to obtain immediate abortion on demand," he did also say that "all parties to this case recognize Roe v. Wade and Planned Parenthood v. Casey as precedents we must follow." The statement continued:
The government has permissible interests in favoring fetal life, protecting the best interests of a minor, and refraining from facilitating abortion. [The high court] has held that the government may further those interests so long as it does not impose an undue burden on a woman seeking an abortion.
It's promising to see Kavanaugh's actions being consistent with his word, and that he hasn't changed his stance over the last decade and more that he's been in public office. C-Span reported that in May of 2006, as Kavanaugh was being confirmed as a judge, Senator Chuck Schumer asked him if he considered Roe v. Wade to be an "abomination."
Kavanaugh did not share his personal opinion, rather, he insisted that he'd uphold constitutional ruling and that it was inappropriate to share anymore about his personal beliefs: "If confirmed to the D.C. Circuit, I would follow Roe v. Wade faithfully and fully," he said. "That would be binding precedent of the court. It's been decided by the Supreme Court."
As for whether or not Kavanaugh has spoken with the President about Roe v. Wade, the answer is a resounding no. USA Today reported that President Trump told reporters "No, I haven't, I really haven't," when asked whether or not he had discussed abortion with the Supreme Court Justice nominee. However, the President has been transparent about how fond he is of Kavanaugh, as CBS News reported he said:
There is no one in America more qualified for this position and no one more deserving. He has impeccable credentials, unsurpassed qualifications, and a proven commitment to equal justice under the law... He's a judge's judge, a true thought leader among his peers. He's a brilliant jurist with a clear and effective writing style, universally regarded as one of the finest and sharpest legal minds of our time.
However, not everyone has expressed such fondness. Ozy reported that Senator Chuck Schumer called his nomination "not just a drop of salt in the partisan wounds; it is the whole shaker." USA Today reported that the senator also said he'd "fight [Kavanaugh's] confirmation" with "everything [he] has."