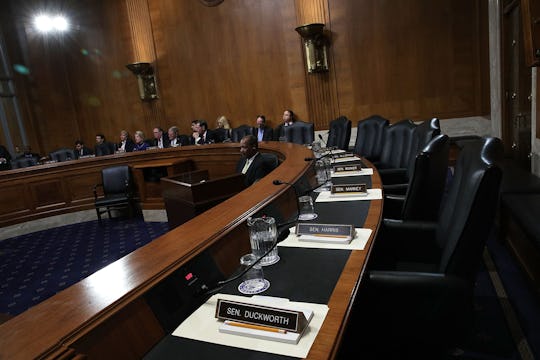 Alex Wong/Getty Images News/Getty Images
Here's Which Senators You Should Call Before The Vote Today
In just a matter of hours, the Senate is expected to vote on the GOP's latest efforts to repeal and replace Obamacare. While some lawmakers have been rather outspoken about their support or disdain for the health care bill, some senators are still undecided on the repeal and replace legislation. Indeed, a lot is still up in the air and the stakes are especially high — Republicans can only afford to lose two senators, or the motion to begin debates will fail. So before it all starts on Tuesday afternoon, here's what you need to know and which senators you should call ahead of the vote today.
According to Politico reporter Dan Diamond, there are at least seven wildcard GOP senate votes:
Sen. Michael Lee (Utah)
Sen. Rand Paul (Kentucky )
Sen. Dean Heller (Nevana)
Sen. Jerry Moran (Kansas)
Sen. Shelley Moore Capito (West Virginia)
Sen. Rob Portman (Ohio)
Sen. Lisa Murkowski (Alaska)
As CNN reported, Majority Leader Mitch McConnell needs 50 out of the 52 Senate Republicans to support him. So, there is a still a chance that these seven senators could halt debates. And if they're truly on the fence, a flood of phone calls from concerned Americans could put pressure on these representatives to side with what the voters want.
While their reasons for not supporting the Senate's version of the health care bill differ, only three "no" votes is needed to put a stop to it. Some congressmen think the legislation doesn't do enough to dismantle Obamacare entirely and some are concerned about the negative impact it would on their state's well-being.
Sen. Lee, for his part, announced earlier this month that he was still undecided because he wasn't sure how the new legislation would affect insurance markets, according to The Washington Examiner.
Meanwhile, Sen. Capito has been "a clear holdout" because needs the new plan to keep Obamacare's Medicaid expansion, CNN reported. Sen. Murkowski has also indicated they she will not vote to proceed unless there was a comprehensive replacement for the Affordable Care Act, according to The New York Times.
With so much at stake for millions of Americans' livelihoods and access to health care, every vote on Tuesday is crucial. That's why it's important to reach out to each of these undecided senators before the process is underway.
Simply call the United States Capitol switchboard at 202-224-3121 and ask the operator to connect you to the Senate office of your choice. And if you have the time, put a call into all seven senators for optimal impact — because there's still time to make a difference.