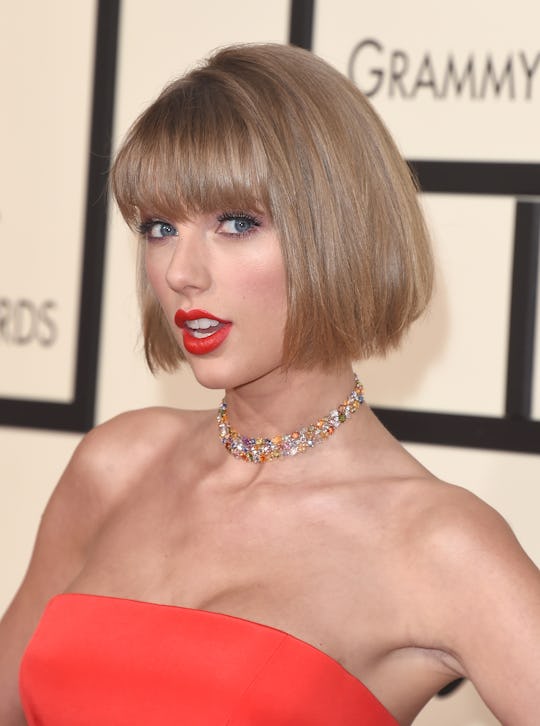 Jason Merritt/TERM/Getty Images Entertainment/Getty Images
Here's Who That Baby On Taylor Swift's "Gorgeous" Really Is
If you're looking to listen to track after track of Taylor Swift songs riddled with hidden meanings and lowkey shade, well, her newly-released album Reputation does not disappoint. From IDGAF songs like "Did Something Bad" to arguably her sexiest song to date, "Dress," Swift is back and with subtweets for days. But who's the baby on Taylor Swift's "Gorgeous"? That, my Swift-loving friends, is a little album "secret" that has less to do with Taylor's past-and-ultimately-failed relationships, and more to do with a current friendship and a steady relationships entertainment fans can't help but love.
According to People, and Reputation's album booklet, "Baby intro voice by James Reynolds." Yes, fans the world-over, the baby featured in "Gorgeous" is Ryan Reynolds and Blake Lively's daughter, James. James is Reynolds and Lively's oldest child, at 2-years-old. The couple also has a 13-month-old daughter, Inez, but I'm going to go ahead and speculate that she didn't have her cooing and/or syllables down prior to recording.
I don't know what you're doing with your life, but a 2-year-old toddler was just featured on an album that sold a reported 800,000 copies in a single hour. In other words, James is living her best life and we're all just walking adult flesh bags of shame and regret.
For those out of the "power-couple/friend squad" loop, Taylor has been BFFs with Lively and Reynolds since 2015, according to People. In fact, a slew of Instragram posts highlights what can only be described as a "fun day" at a Queensland theme park in Australia; a day shared by the couple and Swift. Taylor also double-dated, so to speak, with the couple in Rhode Island for Fourth of July in 2016, when she was enjoying her three-month relationship with actor Tom Hiddleston.
In other words, they three superstars know one another rather well, so it's not entirely out-of-left-field that Swift would make the decision to feature James on a track, or that her parents would allow it.
The song itself is rumored to be about Swift's new romance with British actor and boyfriend Joe Alwyn. Their relationship was confirmed by People in May of this year, though they've been rumored to be secretly dating since February. According to friends close to Swift, Alwyn "could be the one."
Lyrics like, "You should take it as a compliment that I got drunk and made fun of the way you talk," according to USA Today, seem to reference Alwyn's British roots, and the "ocean blue eyes" are said to belong to the actor. And then, of course, there's the sexual song "Dress," which is arguably Swift's most "provocative" track to date. With lyrics like, "Say my name and everything just stops/I don't want you like a best friend/Only bought this dress so you could take it off, take it off/Carve your name into my bed post," it's pretty clear that the couple are, um, doing rather well.
Hidden meanings, shade, ongoing feuds, and budding romances aside, having 2-year-old James cameo on a track that's all about love, romance, and hope, is without a doubt one of the highlights of Reputation. Sure, there's drama abound and fans and music aficionados will undoubtably be shamelessly de-coding and dissecting and, for lack of a better word, guessing Swift's lyrics for weeks, if not months or years, to come, but one thing is for certain: if you let a famous baby sign on any song, you're winning the entertainment game. Oh, and so is the baby, apparently.
Check out Romper's new video series, Romper's Doula Diaries:
Watch full episodes of Romper's Doula Diaries on Facebook Watch.