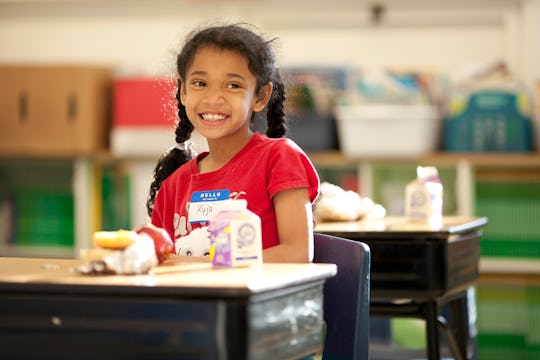 No Kid Hungry
Here's Why Access To A Nutritious Breakfast Is So Important For Kids
Annie* is one of my favorite students in my third grade math and science class; she's a bubbly, bright little fireball. No matter what's going on at home, she'll always light up the room with her big spirit. She's the definition of great things coming in small packages.
Danielle* is a standout, too: imaginative, thoughtful, and kind. She's always helpful to all her friends and never has a mean thing to say about anyone. She's quiet, but don't you dare underestimate her strength.
Between both of these girls, one has parents that work late and struggle with a regular routine, and the other has a parent sick with cancer. Both are from low-income families. Both kids come to school hungry each day.
In fact, out of all of my students, one third of them deal with hunger on a daily basis. Some come in and haven't had a place to sleep the night before, and more often than not they don't know where their next meal will come from. If you haven't faced this problem firsthand, it may be easy to think that childhood hunger is an issue unique to our southern Virginia school, but this problem persists on a national scale. In fact, one in six children in America face hunger, according to data provided by the United States Department of Agriculture (USDA). As many as three million of them aren't getting the breakfast they need because of the way it's being served in schools — early, before the first morning bell, and before many of them even arrive, among other issues.
I see firsthand the impact students face when they start their school day without a nutritious breakfast. They struggle to focus, often don't feel well, and sometimes act out. I don't know a lot of adults who could function at their best without adequate nutrition, either; we even invented a new word for it. (Has anyone ever accused you of being "hangry," perhaps?)
Other teachers like me, as well as parents all over the country, know that hungry kids have a more difficult time learning in the classroom, and it's easy to see why. Instead of paying attention to lessons, I see my students wondering where they're going to get dinner, what they'll have as a snack, or if they'll be going to go to bed hungry tonight. It's clear that by finding a way to end the patterns of hunger they're facing in their personal lives, then my students would be able to focus on just being kids and would have the emotional and physical energy to nurture their studies and themselves.
Luckily, our school has had the incredible opportunity to receive support from No Kid Hungry, a national campaign working to end childhood hunger in the United States. Thanks to the generous support of partners like Kellogg's, Citi, Amazon, General Mills, and others, No Kid Hungry is on a mission to give more kids access to school breakfast by working to have it served to every student at the beginning of the school day, right in their classroom.
You can see the effects immediately after my students eat in the morning. When they're not hungry, they focus their attention on their work and on their friends. They argue less, they're happier, and their grades have improved drastically — from failing grades to straight As. They've come alive in a way I never thought possible.
I knew that my students were capable of more, and to see their response to a daily nutritious breakfast has been nothing short of a miracle. Even Danielle, my quietest, perks up during meal time. It's become a regular point of conversation between the two of us; I can see her blooming before my eyes.
So many families struggle to serve nutritious meals at home, and I know it's not for lack of trying. Between work schedules, income levels, and inaccessibility, it truly becomes impossible. But if we're able to help our students begin every day in a spirit of optimism, safety, and nutrition, then just imagine the impact this small daily change can have on their long term success. Being a more focused student will ultimately affect how they see their place in the world and what they hope to achieve some day — all from a simple breakfast.
Every kid can be successful in school and in life, especially if we can help build a strong foundation for them at this key stage in their development. And if nothing else, it's important for them to know that they are loved and deserve love. We're grateful that we're not alone in believing it.
If you're interested in learning more about how breakfast at school powers kids, visit PoweredByBreakfast.org.
*Student names have been changed for privacy.
This post is sponsored by No Kid Hungry.